Train firms spend £80m on system
The UK's train operators are investing £80m in a new rail settlement system in what is thought to be the largest IT contract ever...

Download this free guide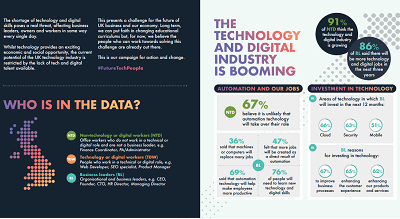 Infographic: How to future-proof UK technology
There is no doubt that the technology industry is booming right now, bringing with it exciting social and economic opportunities. However, there is a real fear that the UK industry may be stunted due to the lack of talent available. This e-guide helps to break down the future fears and expectations of dozens of business leaders and tech workers.

The UK's train operators are investing £80m in a new rail settlement system in what is thought to be the largest IT contract ever awarded in the rail industry.



The system, to handle and allocate more than £3.5bn in annual passenger revenue, will replace the existing settlement system, which was installed in the mid-1980s and has become vastly inefficient, according to the Association of Train Operating Companies (Atoc).

The new system is code-named Lennon (Latest Earnings Networked Nationally Over Night) and is being designed, built and operated by IT services group Schlumberger Sema as part of a 17-year contract.

It will deliver information from all ticket sales - whether purchased from a ticket machine, on a train, via the Web or at a ticket office - to all parties within 24 hours, including the train operators and Transport for London.

This is a dramatic improvement on the existing system which takes up to six weeks to process and deliver the same information, explained Antony Lain, Lennon project manager for the Rail Settlement Plan at the association.

"The legacy systems were designed in the mid-1980s," he said. "But since privatisation the number of aggregators of information has increased and the systems are unable to cope."

Integrating new software into existing legacy systems is often a stumbling block with projects of this size, but Atoc believes Lennon is on target for live delivery by April 2003.

"We are putting a brand new infrastructure in but we cannot replace every old system. So we have run extensive paper tests looking at throughputs and capacity and so forth and we believe Lennon will interface with the old systems," said Lain.

"The majority of the old systems are run by Sema [which British Rail helped to set up before it was later acquired by Schlumberger] anyway so integration should not be an issue," he added.

Atoc has introduced strict measurement guidelines to ensure that Lennon delivers a return on investment.

Schlumberger Sema is contractually obliged to ensure all information is sent to relevant parties within the specified 24 hours, explained Lain.

In addition, he said, the association and the IT services group meet every two weeks to discuss progress.
Read more on IT legislation and regulation