Gartner predicts IT budgets will increase in 2002
A large number of companies plan to boost IT spending this year, despite the current economic climate, according to a joint...

Download this free guide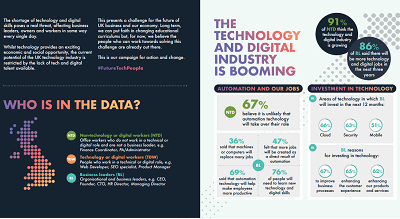 Infographic: How to future-proof UK technology
There is no doubt that the technology industry is booming right now, bringing with it exciting social and economic opportunities. However, there is a real fear that the UK industry may be stunted due to the lack of talent available. This e-guide helps to break down the future fears and expectations of dozens of business leaders and tech workers.

A large number of companies plan to boost IT spending this year, despite the current economic climate, according to a joint survey conducted by Gartner and investment banking firm Soundview Technology Group.



Overall, 60% of the 1,048 IT managers surveyed at a Gartner's symposium last October said their companies would increase IT spending this year.

The petroleum, mining, and energy industries will enjoy the largest projected increase in spending, with a 15.9% jump from last year's predicted spending levels. Agribusiness, fishing, and forestry will see a 10% increase; and the business services industry will increase IT spending by almost 8%.

The petroleum and energy industries did not jump on the e-commerce train during the dotcom craze of the late 1990s and are only now beginning to invest in IT and business-to-business commerce, said Al Case, senior vice president of research projects at Gartner.

"The laggard industries are now increasing their investment, while the early movers, the consumer-oriented businesses, are cutting back," he said.

Likely areas of growth in 2002 for IT vendors include security, storage, and Web-based applications, said Gartner. The survey's findings shed light on higher IT spending rates in the energy industry as power plants and oil refineries seek to protect themselves from hackers and other IT-related attacks.

IT managers whose budgets will shrink are found primarily in manufacturing. The IT budget in that industry is expected to drop by 6.2%. The non-durable goods manufacturing sector figures to be especially hard hit, with IT managers expecting to see their budgets decrease by 15%.

"These industries, especially consumer-packaged goods, had huge amounts of spending earlier, and that is now stabilising," Case said. "Will it last? I think it will last throughout the calendar year [of 2002] but I don't think it will cause a prolonged downward spiral in spending."