NetApp asks rival to cease and desist FUD, while EMC and IBM fight
The storage blogosphere is fighting as usual, but more interesting fights may be happening in the real world as NetApp asks - via lawyers - a rival to stop spreading FUD about its role in an infamous crash. EMC, meanwhile, has a deck of anti-XIV FUD doing the rounds online.
It's press Christmas party season here in Australia, and your editor has been to the events thrown by NetApp and the EMC/VMware/RSA conglomerate.
The latter was uncontroversial, other than for the day-after despatch of a (welcome) hangover amelioration pack that included the USB memory stick pictured below.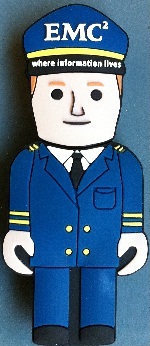 We're intrigued by the memory stick. Is EMC trying to say it is an authoritative figure, like The Fat Controller from Thomas the Tank Engine?
At least with the fat controller you get a weak storage gag.
Or perhaps captain from travel agent Flight Centre is closer to the mark, seeing as he arranges journeys through clouds?
Either way, that's a tame controversy compared to that from the NetApp party, where Australian head honcho Peter O'Connor revealed that the company has sent a cease and desist letter to a rival, which has been spreading rumours NetApp was responsible for the infamous outage at airline Virgin Blue.
NetApp was not responsible in any way.
So who's been in receipt of that letter? A third party has told to SearchStorage ANZ that the source of the well-dressed memory stick was the one that read the nasty letter. We asked EMC but got a firm no comment on legal confidentiality grounds.
EMC's also being a little aggressive on other fronts. In China, for example, it seems to have some anti-XIV FUD loaded and ready to go, if this partial presentation we found on a Chinese file-sharing site is authentic.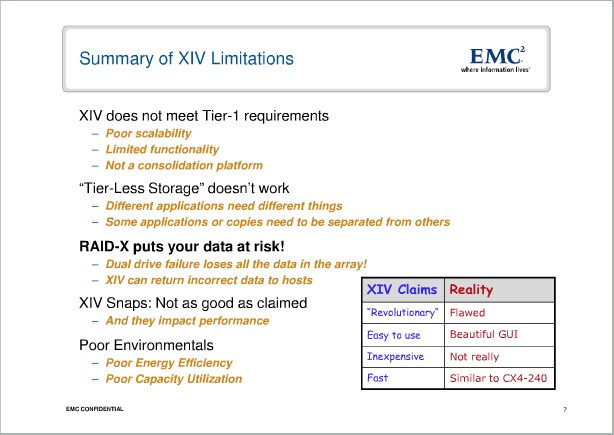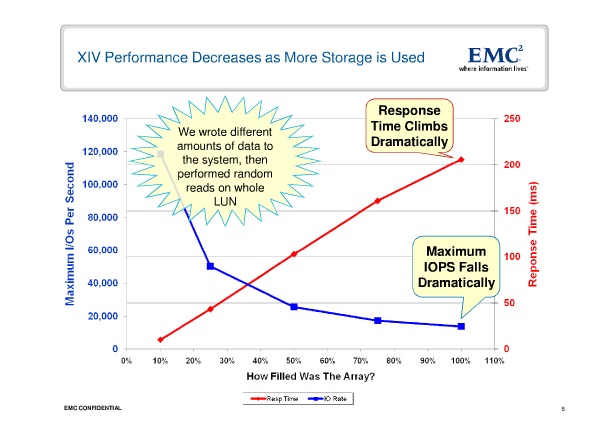 (Both slides link to larger, more legible, versions as the source and our CMS mean we cannot present them in larger and clearer format)
IBM, for what it is worth, seems to be doing just fine with XIV in this neck of the woods, blogging that it has just sold its 101st XIV system in Australia and New Zealand. Also locally, SNIA ANZ (of which I am a non-executive board member) rounded up four bloggers and invited them to visit event sponsors EMC, HDS, NetApp and IBM (and yes, the event was modelled on Gestalt IT Field Days). Posts galore resulted, with Justin Warren's Eigenmagic, Musings of Rodos and the Networker Blog all piling in. Storagezilla noticed Networker's disclosure list:
EMC bought us coffee.
EMC gave us folios with a pad and paper. I took one. The folio will end up in my cupboard with a bunch of other vendor provided folios from over the years.
IBM gave us "leftover" neoprene laptop bags from a conference, that had a small pen and pad in it. My boyfriend claimed the neoprene bag.
IBM bought us coffee.
IBM provided lunch.
HDS provided afternoon tea.
HDS provided drip-filter coffee. I did not however in any way let the drip filter coffee colour my experience on-site. (Remember, I'm a coffee snob.)
NetApp provided beer and wine. I had another engagement to get to that night, and did not partake in any.
'Zilla also fights back against some weird maths from Cinetica, which says only 62 VBlocks have been sold. He points out that the VCE alliance has sold VBlocks to 62 companies. While we're in 'Zilla's patch, Storage Architect wonders if Ireland's financial strife could mean storage vendors go elsewhere, what with Dell having gone to Poland.
Releases and acquisitions
The blogosphere is of course replete with many mentions of the latest storage news, namely EMC's acquisition of Isilon and NetApp's Big New Launch.
Here's the official version of the latter, and here's Chuck Hollis' pre-emptive strike against it and Storagebod's view that Chuck didn't land any blows. Blogger reaction to NetApp's new kit has been positive. IDEAS International analyses the FAS3270 dispassionately, and you can find Steve Foskett's analysis here.
On Isilon, Storage Mojo thinks the buy could help EMC in many ways, giving it an out from the ageing Clariion line and a way to replace the Centera and Celerra which nobody likes. Storagebod sees a lot of upside. Drunken Data thinks it is sad to see Isilon go. Information playground doesn't discuss Isilon directly, but does offer this interesting post on how EMC acquisitions pan out.
Storagebod also analyses the other piece of news from recent times, namely Compellent's new suite. He says what most of you are thinking – with Isilon and 3Par acquired, Compellent looks a bit lonely as a standalone storage vendor.
ESG works in similar territory, noting Data Robotics' tighter hugs with HP. And while we're on acquisitions, About Restore looks at Quest buying Bakbone.
Elsewhere, Storage I/O analyses vendor lock-in and NetApp Australia's John Martin looks at Bit Rot. Canned Platypus examines what happens when Partitions Attack and IBM celebrates important work on storage security and Steve Foskett looks at thin vs. automatic provisioning.