Behind the scenes of the London VMware User Group
Mike Laverick shares the details of the latest London VMware User Group meeting, along with explaining why local IT professionals should consider membership.
We saw another cracking London VMware User Group (VMUG) meeting on Oct. 28. The London group is one of the longest operating groups within the VMware User Group programme and has been meeting since 2004. It regularly attracts a full house at its venue -- The London Chambers of Commerce, just a stone's throw from London's famous St Paul's Cathedral -- and a short walk from London's legendary Square Mile, where a high density of blue-chip companies are all to be found cheek-by-jowl with each other.
I find this aspect of the User Group (UG) invaluable. As a technologist, I often let my enthusiasm for bells and whistles overshadow the business realities of customer adoption, so our quarterly UG's are a great opportunity for me to be brought back into the real world!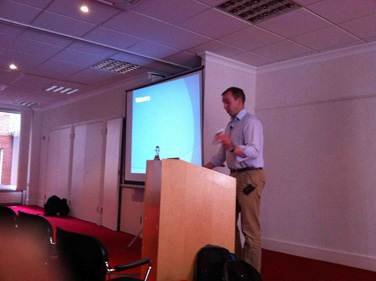 I like to come across as neutral and talk about the good, the bad, the ugly and the plain bonkers in equal measure.

Mike Laverick, Contributor,
As part of a new innovation, the UG day is now split into two informal small sessions. A regular slot for this year has been assigned to skilling up the user group on PowerCLI, with meetings in the morning starting at 11 a.m. and all the members gathered together in a single room for the afternoon.
The VMware PowerCLI session is hosted by none other than Al Renouf of virtu-al.net (no, he's not French!), who is now an EMC vSpecialist and known across the community for his "vHealth Check" script. Our members have found these hands-on, practical sessions extremely useful for their day-to-day administration. The sessions have been running all this year and will continue into 2011 as well, given that PowerCLI has such a rich library of cmdlets to help the VMware admin.
In this UG, we introduced a new roundtable strategy meeting designed for those users who are perhaps a little less hands on and are interested in discussing the business challenges that surround implementing and supporting VMware technologies.
This first strategy group meeting was chaired by myself and was attended by senior executives of VMware, and it centered on the whole issue of rolling out virtual desktop infrastructure (VDI). There were really useful tips and tricks and some good suggestions about how to pull together the various stakeholders to ensure the VDI project is successful. I recorded the audio from the session so the attendees could have a transcript of the discussion to refer to, and we hope to make these available to the user group members once I have resolved the recording issues. I think I will be using two microphones next time and asking folks to really speak up!
So what happened at the meeting?
Our sponsor for the main group session was Xsigo, and we had one of their top guys, Chris Brandon, presenting the solution to the group. We make a point at the London VMUG of asking for technical presenters to keep the sales- and marketing-speak down to the minimum. Our membership is highly technical and are hard-core customers who were very early adopters of virtualisation -- with some users going as far back as ESX 1.0! I personally think that I/O virtualisation is the next big thing from a technology standpoint. Whether that will be Xsigo or some other vendor is anyone's guess -- what's intriguing about Xsigo is that their implementation is independent of the OEM or server type.
Next up was Julian Wood from Invesco. Julian has been coming to the London VMUG for some time. I found his input in the strategy meeting, as well as his session during the general meeting, particularly useful. I was very interested in their VDI project and the challenges they have faced around vCenter availability -- a subject close to my heart. We really encourage our members to share with the group their experiences in an effort to flag up best practices and possible "gotchas" and how the unique challenges within their business shape their virtualisation projects.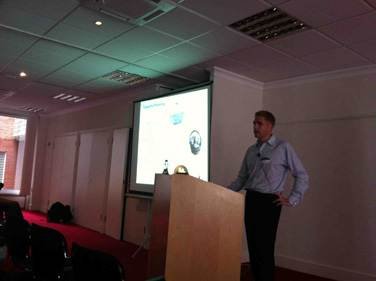 Sadly, our special guest speaker Gabrie van Zanten -- of Gabes Virtual World fame -- was unable to make the event due to a travel problem. So it was down to me to step up to the plate and deliver a presentation I'd originally put together for the previous UG but, due to time restrictions, had to be dropped. It was a pleasure to cover Gabrie's back and tell the user group about my experiences at a Microsoft virtualisation course some months ago. Although it is a VMware User Group, the membership is anything but narrowly focused, and we like to pull in different vendors. It would have been very easy to "go negative" about Microsoft at a VMware User Group, but I started out by talking about some of features and functionality I liked about Hyper-V and System Center Virtual Machine Manage (SCVMM). There's so much vendor-slanted stuff around these days; I like to come across as neutral and talk about the good, the bad, the ugly and the plain bonkers in equal measure.
VMworld Europe award winner speaks
My session was followed by a presentation from Simon Gallagher of vTARDIS fame and winner of the Best in Show User Award at Copenhagen. Having attended both the San Francisco and Copenhagen conventions, Simon gave us a good overview of the both VMworld events, albeit skipping over any alcoholic misdemeanors from the members! Especially useful were Simon's tips and tricks about how to get to VMworld under your own steam while keeping the costs down to a minimum and how to convince your management that a trip to Las Vegas is an absolute must in 2011.
I often let my enthusiasm for bells and whistles overshadow the business realities of customer adoption.

Mike Laverick, Contributor,
Our last session came from James Smith of VMware talking about the new features and functionality surrounding the VMware View 4.5 product. The user group took the opportunity to quiz the end-user computing guys from VMware about the product. I've been particular impressed with the 4.5 release, and it's no surprise to me that Gartner recently approved it for use by the enterprise customers.
The whole day was wrapped up with vBeers at our usual hunting ground: The Pavillion End pub on Watling Street. Many thanks to Andrew Fryer of Microsoft for covering the first round of vBeers, and to VMware for the second and third! Our next meeting will be once again at the Chambers of Commerce, London on Feb. 10, 2011.
If you want to see our activities, follow myself (@mike_laverick) or our membership secretary Jane Rimmer (@rimmergram) on Twitter; our official hashtag is #LonVMUG. The London User Group also has a landing zone on VMware's VMTN User Group forum, as well as a LinkedIn group.
MIKE LAVERICK'S BIO:
Mike Laverick is a professional instructor with 15 years of experience with technologies such as Novell, Windows and Citrix and has been involved with the VMware community since 2003. Laverick is a VMware forum moderator and member of the London VMware User Group Steering Committee. In addition to teaching, Laverick is the owner and author of the virtualisation website and blog RTFM Education, where he publishes free guides and utilities aimed at VMware ESX/VirtualCenter users. In 2009, Laverick received the VMware vExpert award and helped found the Irish and Scottish user groups. Laverick has had books published on VMware Virtual Infrastructure 3, VMware vSphere 4 and VMware Site Recovery Manager.
Read more on Server virtualisation platforms and management