Analysis: can Sage break the mould with its SaaS for SMEs?
Sage finally looks set to develop its web strategy, having launched SageOne, a software-as-a-service application for small businesses. But is the move too little and too late for a company seen by many as stuck in its ways?
Sage finally looks set to develop its web strategy, having launched SageOne, a software-as-a-service application for small businesses. But is the move too little and too late for a company seen by many as stuck in its ways?

Download this free guide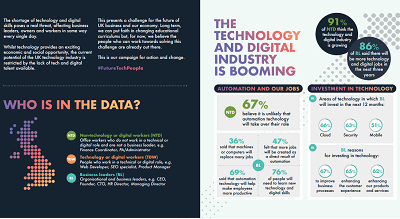 Infographic: How to future-proof UK technology
There is no doubt that the technology industry is booming right now, bringing with it exciting social and economic opportunities. However, there is a real fear that the UK industry may be stunted due to the lack of talent available. This e-guide helps to break down the future fears and expectations of dozens of business leaders and tech workers.
Sage surprised some in the market when it launched online accounting software for small businesses SageOne, designed for sole traders and micro businesses.
The basic package allows sole traders to enter customer and supplier payments and details and costs £5 a month. It has also launched an Accounts edition at £10 per month, and an Accountant Edition to let professionals manage the accounts of clients for £250 a year.
Angela Eager, senior analyst at Ovum, says Sage has a reputation for primarily serving the mid-market, so this move will fill a gap in its portfolio.
"It is unusual for Sage to build a brand new application specifically for the web, in that sense it's a new direction but the question is, why has this taken so long?" she says.
Sage says it has made significant investments in research and development on cloud platforms, hinting that more cloud-based product launches are on the cards. "Watch out for future announcements in the next 12 months," says Paul Stobart, CEO of Sage Northern Europe.
The Newcastle-based company is typically regarded as conservative, with a customer base to match. But it has been slow with the cloud and its customer base is probably now demanding more, says Eager.
However, Peter Scargill, national chairman at the Federation of Small Businesses, disagrees, citing patchy broadband coverage as a reason why cloud-based applications haven't been a realistic option for SMEs until recently. "I think Sage is right to be cautious," he says.
"We will see an increasing number of applications become cloud-based as we move away from dependence on laptops. As the use of tablets becomes more widespread, there will be even more opportunities." If SageOne is popular, more products like it will emerge, he adds.
But SageOne is by no means the first SaaS SME business platform in the market. Aside from the company's own part cloud-based CRM programme, SalesForce.com has been active in this space for some time, while Netsuite has an ERP platform aimed at medium-sized businesses. New products are also emerging, with iCubeOffice claiming to offer small businesses email, CRM, document management software and admin management from £1 per user a month.
Clouded issues: Mixed opinions over Sage's move
Clive Longbottom, founder of analyst firm Quocira, is not convinced about Sage's commitment to move to the cloud.
For Longbottom, the company has not tried to significantly break away from its existing channel.
"Sage bought SalesLogix around 12 years ago, which in many ways was a forerunner to Salesforce.com, but just sat on it.
"Anything new it does tends to get squashed by the company's conservatism. Sage is successful because of the lack of choice in the market," he says.
Sage will be forced to go into the cloud, says Longbottom. "It will have to do more. But whether it will do it correctly, I doubt it."
Eager is slightly more hopeful. "SageOne is an interesting offering at a low price, so there are potential revenue opportunities."
However, she agrees that it is unlikely that the company will change its pace dramatically in adopting cloud services. "I think the market is moving faster than Sage," she adds.
Sage's Stobart admits that SageOne is unlikely to make "trillions in revenue", adding that the launch of SageOne is more about the company taking a new direction. "This is very exciting for us," he adds.
But the company's pace and commitment of moving into the cloud could be tested over the next year as the market for SME SaaS applications begins to look increasingly crowded.
Read more on IT architecture