Green IT projects are at risk of the chop after spending review
With businesses and governments trying to cut costs, green IT projects that cannot prove their worth will be cut. But now is the time to go green because...
With businesses and governments trying to cut costs, green IT projects that cannot prove their worth will be cut. But now is the time to go green because new technologies offer long-term cost benefits.

Download this free guide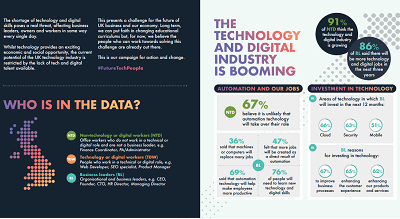 Infographic: How to future-proof UK technology
There is no doubt that the technology industry is booming right now, bringing with it exciting social and economic opportunities. However, there is a real fear that the UK industry may be stunted due to the lack of talent available. This e-guide helps to break down the future fears and expectations of dozens of business leaders and tech workers.
According to a study carried out by Compass management Consulting, many green IT projects are poorly defined and it is difficult to measure their level of success. As a result they could be abandoned to save money.
Compass found that corporates even have different levels of commitment to green. It said one company is re-using 50% of its PCs and servers in Asia, 20% in the UK and just 10% in Central America.
Steve Tuppen, consulting director at Compass Management Consulting, said, "Too many green IT projects have no dollar values attached in terms of benefits to be delivered so they do not get senior people's attention. This lack of defined fiscal benefit means that more and more projects are being quietly dropped."
But he said the current IT cost cutting and green initiatives should go hand-in-hand because green IT is lower cost in the long-term.
Technologies used to reduce power consumption will lower costs. "The current economic situation may prove to be the best opportunity we have to implement real change in the way IT services are consumed and delivered more sustainably."
Compass said huge IT estates can be transformed to cut costs by between 30% and 50%. Increased standardisation of IT services, server virtualisation, a recharge model which encourages sustainability and recycling of old equipment.
Compass said a UK government department achieved a cost reduction of £1.9bn over five years by audited power reductions. This also led to a reduction in emissions of 29,897 tonnes of CO2 each year.
This was achieved by a combination of datacentre power savings of 3,504 megawatt hours (MWh) per year, server consolidation 5,917MWh per year, desktop transformation 40,364MWh per year and printer rationalisation 17,083MWh per year.
Tuppen said now is the time to go green and the government could play a leading role following the spending review.
"The greenest policy of all is to close datacentres, ship out old PCs and servers in good shape for disposal and bring in a more energy efficient estate. There are over 130 datacentres in central government alone and the government's own IT strategy calls for a reduction to 10 to 12 facilities over the next three years. This change will only happen if it is preceded by a transformation of the way IT services are consumed as a result of more standardisation of the service delivery and financial incentives to reduce consumption through utility-type pricing," said Tuppen.
Read more on IT efficiency and sustainability