Lords query £140k grant to rural broadband quango
Questions have been raised in the House of Lords about £140,500 of taxpayers' money given to support a mentoring scheme for rural broadband projects, but more may be at stake.
Questions have been raised in the House of Lords about £140,500 of taxpayers' money given to support a mentoring scheme for rural broadband projects, but more may be at stake.

Download this free guide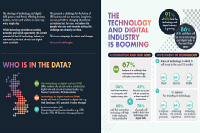 Infographic: How to future-proof UK technology
There is no doubt that the technology industry is booming right now, bringing with it exciting social and economic opportunities. However, there is a real fear that the UK industry may be stunted due to the lack of talent available. This e-guide helps to break down the future fears and expectations of dozens of business leaders and tech workers.
Lord Laird has also questioned an apparent discrepancy between a statement from Malcolm Corbett, chief executive of the Community Broadband Network (CBN), which received the money, and CBN declarations to the Financial Services Authority (FSA), about the number of CBN members.
The news comes has the government prepares to hold an "industry day" to discuss how to finance the roll-out of broadband access to rural and urban "not-spots".
The CBN, and more recently its successor, the Independent Networks Cooperative Association (Inca), has been prominent in promoting the rural broadband cause. Up to one-third of UK premises risk not receiving broadband access faster than 2Mbps.
Responding to questions from Lord Laird, business minister Baroness Wilcox said:
the former DTI and Defra each paid £30,000 to Ruralnet to set up CBN in 2003 and 2004
the Countryside Agency and Defra then paid £30,000 and £42,500 respectively in 2004 and 2005 to support a mentoring scheme for local broadband projects
the Countryside Agency paid £8,000 in 2005 to CBN to help build the CBN website.
This amounted to £140,500.
Defra minister Lord Henley said, based on information supplied by CBN, it had recruited 34 mentors. "Ruralnet and CBN provided 58 mentor-days, dealt with 38 experts' online requests and provided 83 training places. Further breakdown of costs is not available. Ruralnet is no longer in existence, so further details are no longer available," he said.
Lord Laird asked whether the government would look into the statement by Corbett, that from 2004 CBN had acquired 200 members. But, Laird said, the CBN board's declarations in its annual return to the FSA showed that it had attracted 4, 8, 10, 12 and 12 members for the years 2004 to 2008 respectively.
Baroness Wilcox said the government had no plans to investigate. "Any evidence of wrongdoing should be presented to the appropriate authorities," she said in a written answer.
According to the Inca website, it received a contract worth £150,000 from the Department for Business, Innovation and Skills (BIS) at the end of 2009. The contract ran from July 2009 to 30 June 2010 and allowed Inca to recover some start-up costs. "However the bulk of the work had to be condensed into six months," it said.
Inca published a work plan in May 2010, just a month before the contract ended, indicating how it would spend the money.
Its two main aims were to represent independent networks in industry-wide development of interconnection standards, and to persuade local and community broadband project groups to adopt them.
It aimed to be "independent" by 31 August 2010, employing its own management team and core staff, and to "demonstrate its contribution to the adoption of common standards for local and community (broadband) projects".
Read more on IT legislation and regulation