How Eni's IT survived the recession and came out smelling of roses
Gianluigi Castelli, executive vice-president and chief technology officer at Italian energy company Eni, says he has survived the global financial meltdown with a stronger, more respected IT organisation.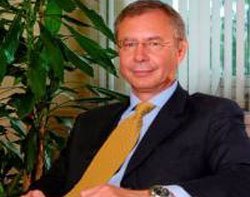 Gianluigi Castelli, executive vice-president and chief technology officer at Italian energy company Eni, says he has survived the global financial meltdown with a stronger, more respected IT organisation.
The company began an IT transformation in 2005 when a new CEO joined. The senior management was dissatisfied by IT, but the new CEO did not want to outsource IT. Instead, the CEO wanted to improve internal IT. However, the IT transformation programme Castelli established was overtaken by world events when the recession hit, causing a big rethink of IT, which he needed to put in place quickly to ensure IT within Eni survived and could support the business through the difficult trading conditions it was experiencing from late 2009.
Speaking of his experiences during the Forrester IT Forum conference in Portugal, Castelli said, "By 2007 we started implementing the original change programme. 2010 was supposed to be the year of continual improvement. But the financial crisis led to panic. The global events happened so quickly." The price of oil fell from $148 per barrel in 2008 to $48. In 2009. revenue dropped 50%. "IT was hit. The former plan was inadequate. We had to react very quickly. We spent January 2009 moving from panic to 'burning platform' mode."
While the situation was dire, Castelli had started to form a battle plan.
He said the IT department needed to minimise its financial impact on the business while continuing to deliver value. "We reviewed the operational model and identified quick wins. Communications was a vital part of the survival plan. A careful set of elements were required." He said the IT department needed to balance cost with where to invest to produce fast result. The new transformation programme would depend on people, speed and technology choices.
Based on a worst case scenario where the oil price would remain at $48, Castelli had to reduce IT costs by 48%. "We reviewed contracts and extended the number of tenders. The biggest barrier to cutting IT costs came from the line of business. But we still managed to save eight million euros [from line of business systems]."
Castelli said he needed to ensure the board understood that certain part of the IT budget was untouchable because it was the minimum level of spending required to keep IT running. "We assessed the value and prioritised each project. We obsessively looked at value." He then communicated the value of each project to the business.
Working with people
In the Eni transformation, Castelli said the contribution of people was very important. "If changes have an impact on the way people work, communications is very significant. We had to help people understand why the changes were needed. We had constant meetings and sent daily e-mails to align [staff] expectations." This was combined with an education programme. "In 2009 our training budget was slightly more than 2008."
He also held regular meetings with the unions, as the job roles of staff would be changing as a result of the transformation. "We established regular meetings with the unions. It was important to bring them on board. It was important to keep them aware," he said.
Consolidation
Eni reduced its datacentres from 32 to nine. Castelli has cut 1100 physical servers to 47 thanks to virtualisation. Eni is also designing a €70m datacentre capable of delivering 30 megawatts. He says this new datacentre will have an industry-leading PUE power efficiency rating of between 1.14 and 1.18.
Castelli has also consolidated suppliers from 173 to 103. Application consolidation has been harder. He said, "It requires more time. We have cut 100 applications and there are larger programmes for 2011 and 2012 to address SAP and our procurement systems."
Innovation
Castelli has rolled out IP telephony across all the company's offices, saving €8m. IT has also rolled out a multimedia collaboration system called eniWave to encourage innovation. For the future, Castelli also wants to move IT suppliers to a risk sharing partnerships.
He said, "The transformation has given Eni IT a more solid foundations than before. We now have elective processes to choose projects and have created an infrastructure for our future."
As a result, Castelli said IT is receiving extra investments since IT has improved quickly, and the company recognises IT's ability to deliver.