IT industry job satisfaction double UK average, survey shows
Job satisfaction in the IT industry is nearly double the UK average, research has revealed.
Job satisfaction in the IT industry is nearly double the UK average, research has revealed.
The survey of 200 IT professionals by Loudhouse Research found that 81% of IT professionals in the UK are happy in their job.
"Although not a complete surprise, this is a fantastic number," said Phil Cross, IT professional audience manager at Microsoft UK, which commissioned the study.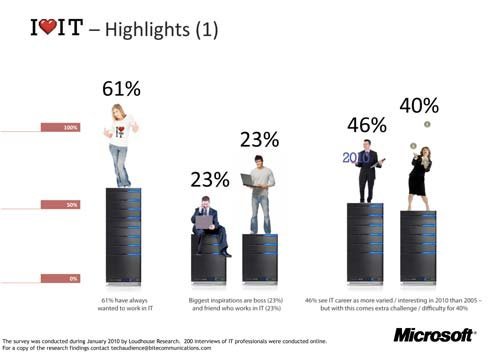 This high level of satisfaction is in contrast to only 42% of happy respondents to the latest quarterly Employee Outlook Survey by the Chartered Institute of Personnel and Development (CIPD), he said.
The majority of those in the industry see IT as a long-term career choice, with 67% of respondents expecting to be working in the sector in 10 years. Almost half of respondents (47%) also said that they have ambitions to become a director or entrepreneur.
"There are always new challenges, things to look forward to and things to learn, which helps keep things interesting," said Cross.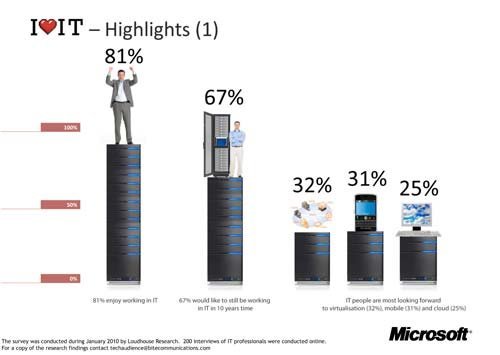 Motivated by IT
Tristram Bardrick, sales manager at the National Computer Centre (NCC), said the survey clearly shows the motivating factors for people who work in IT. "As an industry we should be committed to fostering this excitement and positive attitude."
Virtualisation is ranked as the most exciting type of IT project for this year, followed by mobile and cloud computing.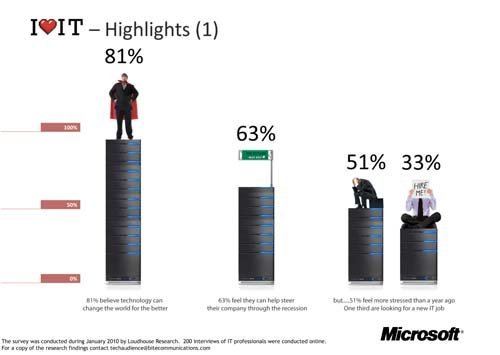 "It is encouraging to see that the things the IT professionals are focused on and excited about are the same things technology suppliers are concentrating on," said Cross.
IT professionals have a positive view of technology and believe it can help businesses during the recession, the survey found.
Nearly two-thirds (63%) of respondents said they can help their company steer through the recession and 81% said technology can change the world for the better.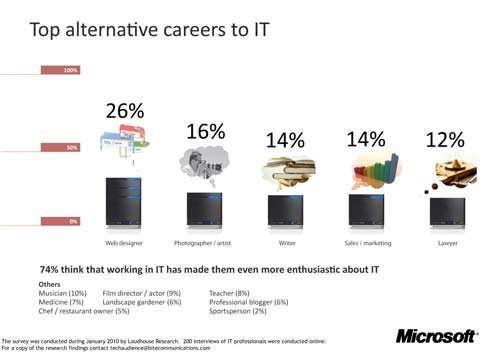 Under stress
Conversely, the top three dislikes were time spent firefighting or troubleshooting, unrealistic user expectations, and feeling permanently on call.
"The technology industry is constantly trying to address these problems, but it is likely that some or all of these elements will remain to some degree," said Cross.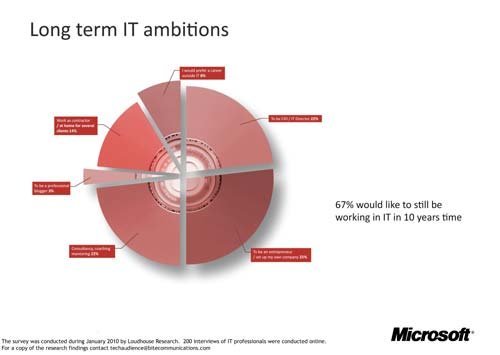 Just over half of the respondents (51%) said they find their job more stressful than a year ago and 46% said their job is more challenging and difficult than five years ago.
In this regard, the experience of IT professionals is on par with the national average. In the CIPD research, 41% said they are under excessive pressure every day or at least once a week.
But on the whole, the research shows that people working in IT are positive about their career choice, which is encouraging, said Cross.