Security technology must enable business, says Clearswift
Businesses are increasingly demanding security technology that enables innovation and growth, says content security firm Clearswift.
Businesses are increasingly demanding security technology that enables innovation and growth, says content security firm Clearswift.
"Security must move away from stopping people from doing things to being a business enabler," said Richard Turner, chief executive at Clearswift.

Download this free guide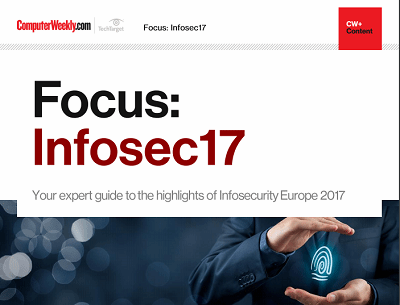 From forensic cyber to encryption: InfoSec17
Security technologist Bruce Schneier's insights and warnings around the regulation of IoT security and forensic cyber psychologist Mary Aiken's comments around the tensions between encryption and state security were the top highlights of the keynote presentations at Infosecurity Europe 2017 in London.
By submitting your personal information, you agree that TechTarget and its partners may contact you regarding relevant content, products and special offers.
You also agree that your personal information may be transferred and processed in the United States, and that you have read and agree to the Terms of Use and the Privacy Policy.
Clearswift's revenue from e-mail and web filtering appliances was up 50% in the first quarter of the 2010 fiscal year, compared with the same period a year ago.
In addition to a new channel strategy, Turner ascribes much of this success to helping businesses to open up web and e-mail communications with partners and customers.
"Security needs to be about helping the business to take advantage of web-based opportunities in a secure way," he said.
Saving money and the environment
Clearswift is also tapping into other business aspirations, such as more environmentally-friendly and cost-effective technologies.
Virtualisation is a good example of this because it not only saves money, but also enables business to go green by saving power consumption, said Turner.
Clearswift has taken the strategic move of making its core software products available for the VMware virtualisation platform.
"Some 80% of our products ship on VMware, with demand for physical network appliances declining rapidly," said Turner.
Businesses are increasingly seeing virtualisation as a key enabler and Clearswift plans to grow its market by releasing products compatible with Microsoft's Hyper-V virtualisation technology.
"Although we have focused on VMware as the leader in virtualisation, Microsoft is growing in importance for some types of business," said Turner.
Business needs take priority
Business needs are increasingly driving technology spending as the economic climate has worsened and more CIOs are drawn from the business and not IT, he said.
Clearswift has benefited from this trend as these new-style CIOs seek to use technology to grow the business.
"They also see the value in giving business people tools such as Clearswift to control who can access the content they create," said Turner.
As a growing proportion of business communications are e-mail and web-based, it makes more sense to enable the people who create content to set the rules about how that content is accessed, instead of relying on the IT department, he said.
Read more on IT risk management