Philip Virgo nominated for New Statesmen New Media Award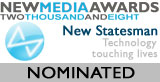 Rebecca Froley, deputy web editor for ComputerWeekly.com, congratulates Philip on being nominated for a New Statesman New Media Award,
I hope Philip won't mind me interrupting the flow of his blog to bring this news to his readers! Philip's blog has been nominated for an award in the 'Inform and Educate' category of the New Media Awards.
The Awards, now in their tenth year, champion individuals and organisations who are using the new media to benefit society, and Philip's nomination recognises his use of the 'When IT Meets Politics' blog to campaign for change in UK and European IT policy.
To support Philip's nomination, please follow the link from the button to add your comments to those already registered.
And don't forget, you can also nominate your favourite IT-related blogs for one of Computer Weekly's IT Blog Awards.
Normal service will now resume. Thank you! (Rebecca Froley, Deputy Web Editor, ComputerWeekly.com)