Are you a tech influencer, porn star or Sarah Palin?
TechCrunch has posted, named and shamed an infographic of women in tech created by WPromote online marketing.
WPromote say it was designed in response to the popularity of other 'tech geek' infographics.
In a blog post, WPromote's Maria Sass wrote, "A few months ago "Evolution of the Geek" infographic went 'round the web. This infographic warmed our nerdy hearts, however we noticed one thing missing: female geeks. That omission prompted us to create our own infographic starring tech's leading ladies."
I'm gob-smacked.
Female success has been reduced to a series of key decisions concerning shoes, barnets and white wine spritzers.
In a misguided effort to represent women, this hideously pink flow chart – similar to a page-filler in a teenage magazine – manages to trivialise the status of women in the tech industry.
Which hair style do you prefer? A dead end on the flow chart reads, "The only thing this hair style will get you is a fist pump."
The makers of this infographic might get something similar from women working in IT.
Click to enlarge image.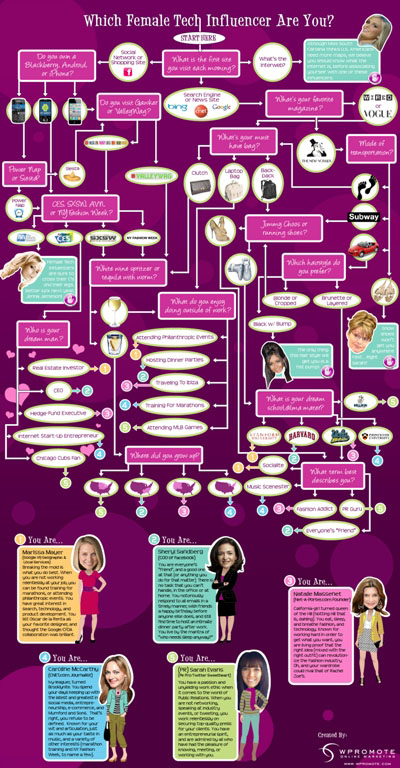 Compare to Evolution of the Geek: