CSC paid 0.5% tax on £1.5bn outsource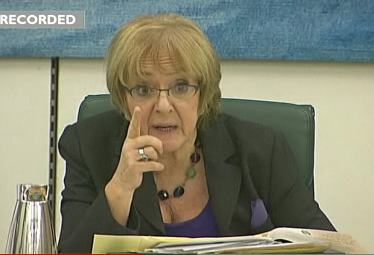 Computer Sciences Corporation has paid just half a percent in tax on £1.5bn income it earned from the 10-year outsource deal it did with with Royal Mail in 2003.
The revelation comes from Computer Weekly's analysis of eight years of accounts published to date by CSC Business Systems Limited, the private vehicle Royal Mail put its IT division into when it privatised that part of its backoffice in 2003.
In the week MPs on the Public Accounts Committee rebuked multinationals Amazon, Google, and Starbucks for paying little or no tax while making £billions in UK sales, Private Eye also reported tax-avoiding arrangements used by other major government IT suppliers: Accenture, Capgemini, Fujitsu, HP, and IBM.
Delving into the accounts of CSC's Royal Mail deal sheds some light on how IT suppliers can win big government contracts by cutting prices to kamikaze-levels. And then make up the difference by ruthlessly cutting costs. They avoid disaster in the interim by claiming tax rebates.
The losses are built into the outsource model, say accountancy experts. Non-payment of tax is built in too – since companies only pay tax on their profits. But a loss-making outsource will still generate income for its parent – in the form of inter-group payments that go unrecorded under UK accounting rules.
Shady
Should multinationals be taxed on inter-group payments that get recorded officially not as repatriated profits but costs taken out before profits are calculated for taxation? That's what the Public Accounts Committee was getting at this week.
For IT outsourcers, the question is whether sustained losses can be justified when buyer and seller effectively set the costs and revenues of the deal when they set it up. Or whether the industry is predicated on an unsavoury system of officially-sanctioned tax evasion and back-door cuts.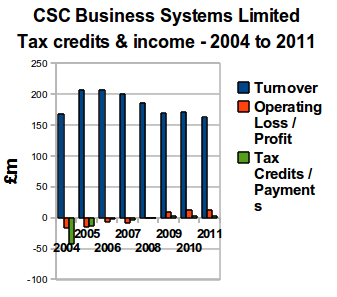 CSC made a cumulative loss of £12.4m on its £1.5bn Royal Mail contract. It started turning a meagre profit in 2009 after it had finished cutting 63 per cent of the staff (1,082 people) it acquired under the deal.
It got £61.6m of tax credits when it was making a loss. And has since going profitable paid only 0.5 per cent tax on its £1.5bn income – that's £7.8m.
The shape of this arrangement would have been set out by CSC and Royal Mail when they got together to do the deal in 2003, said the director of a big-ten accounting house, who asked to remain anonymous.
Set up
"Generally for a long term contract Step 1 is what are we going to do. Step 2 is what will it cost. You budget for that over 10 years and price it accordingly.
"Part of the pricing strategy might be, 'We can do it more efficiently if we cut back on staff. And that would have been planned from the outset," he said.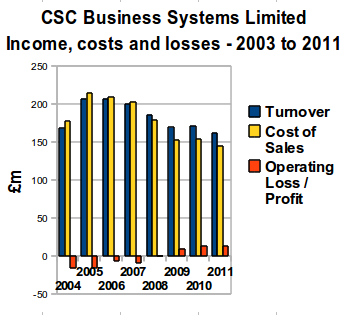 The planning can be seen clearly in the accounts of CSC Business Systems Limited, its Royal Mail outsource venture, which reported fairly consistent income and expenditure for the duration of the contract.
The contract had a mid-way renegotiation built into it. That passed on to Royal Mail, in the form of lower prices, the lower costs CSC was enjoying as a consequence of the 1,000 job cuts it made in the first years.
Otherwise it was business as usual, year-in, year-out: losses, tax credits, job cuts and opaque inter-group payments; followed by meagre profits and minuscule tax payments on a £1.5bn business.
If it was standard practice to run an outsourcing contract like clockwork, why was this clock running so badly that it never had any money to pay tax?
Lost profit
"The fair question is why a company has gone for 10 years, turned over £1.5bn and hardly made any money out of it," said John Brace a forensic accountant with Harwood Hutton and former president of the Association of Chartered Certified Accountants.
"Why have they not made any money on £1.5bn of turnover? They made £35m in recent years. But the net result is they have not made a row of beans out of £1.5bn. Is that the intended plan, or is it incompetence, or is it just bad luck?" he said.
Lee Ayling, IT outsourcing expert and management consulting partner at KPMG, said: "They've taken a bunch of costs in the first years and then made a profit in the last part.
"That's very typical for an IT outsourcing contract. They take a bit of business where they can essentially restructure the cost profile into a shape they can make a profit on."
CSC got a tax credit of £43m for its Royal Mail business in 10 months it traded in its first fiscal year.
It cut 500 staff in the period. £17m of the tax break went to its parent as a write-off against its losses. It got that back in cash. The rest was raised against capital it laid out for the Royal Mail unit.
At the end of the period it recorded debts to its parent of £53.9m. It cannot be known how much CSC Business Systems Limited actually paid to its parent company that year. Nor any year. UK accounting rules do not require them to be reported.
The IT outsource industry usually does this within accounting rules. Although CSC is subject to an ongoing fraud investigation by the US Securities and Exchange Commission that includes its UK business, there is no reason at all to suspect CSC of foul play in its Royal Mail outsource. It has itself taken steps to route out financial errors and sack people responsible. Everything looked above board in the accounts of CSC Business Systems Limited to the three senior accountants who looked at Computer Weekly's summary of its numbers.
Business as us ual
It was not only above board. It was par for the course, said the experts.
"There's nothing here that looks remotely surprising or remotely worthy of criticism. It's absolutely bog standard," said the accounting director who did not want to be named.
Par for the course, that is, to run at a loss, hide inter-company payments made before tax is calculated and only claim meagre profit for the tail of the contract.
Turning a cynical eye over the numbers, Brace said the outsource model might be a way for public bodies to pass the buck for downsizing. The outsourcer goes to the union with its losses in the first year and says, 'If we don't make cuts we could all be out of a job'.
However, he said, "One has to be careful about what conclusions one draws. It might all be perfectly straight forward – they went into the contract knowing they were going to suffer a bit of pain in the early years and that it would pan out and start operating reasonably well."
A government source said today it was looking at making an upfront declaration of tax and revenues a requirement of public bids. But such an idea would be fruitless (the government already knows what tax companies pay – and anyone can see it in their accounts) unless it either publishes a league table, or sets a tax bar below which companies will be prohibited from supplying government.
CSC was unavailable for comment.