Fedora 19 Schrödinger's Cat is out of the bag
The Red Hat sponsored Fedora Project has announced the Fedora 19 fully functional free of charge Linux operating system code-named "Schrödinger's Cat".
"In this release, the Fedora Project community has absolutely demonstrated that agility matters," said Robyn Bergeron, Fedora Project Leader.
NOTE: The Fedora Project aims to release a new version of its free operating system approximately every six months.
New features in Fedora 19 include a developer's assistant tool suitable for beginners (or lightly seasoned developers) for initiating code projects with language-specific templates, samples, and toolchains.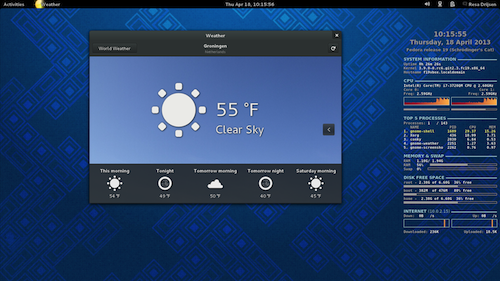 Image credit: http://resalxh.wordpress.com/
Fedora strives to include the latest language stacks in each release, and Fedora 19 continues in this tradition with updates to PHP (5.5), the recently released Ruby 2.0.0, and a tech preview of the upcoming OpenJDK8.
"From high-level features for enabling cloud and virtualisation infrastructure, all the way down to process-level and virtual-machine level portability, combined with the newest developer toolchains, Fedora 19 contains technologies that enable scalability, resilience, and flexibility that are vital in a technology world increasingly focused on rapid delivery of solutions, services, and information," said Bergeron.
Fedora 19 also provides a variety of improvements to the management of the operating system, including the boot process, recovery from failures and migration of systems.
New features for everyday use include enhancements to CUPS, which now uses PDF as the standard print job format, enabling easier post-processing, and faster printing; and federated Voice-over-IP (VoIP), enabling Fedora users to make calls utilizing a [email protected] address with the same convenience as email.