DataStax bids to be THE Internet of Things database
The Cassandra Summit Europe 2014 held this week in London has seen DataStax announce the general availability of DataStax Enterprise 4.6 (DSE 4.6).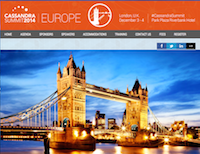 DataStax is a company that delivers open source Apache Cassandra at an enterprise level with maintenance and support.
The firm says that DSE could be the "leading database platform" for Internet of Things (IOT), web and mobile applications.
Really, why?
By offering integrated Apache Spark analytics and advanced enterprise search, DataStax says it combines innovation with "operational simplicity" in the new distributed database technology market.
Also of note, DataStax announced OpsCenter 5.1, the latest version of its visual monitoring and management tool for backup and restore capabilities to safeguard critical and distributed customer information.
"Data comes in all shapes and sizes making it increasingly challenging to find a database that can accommodate enormous amounts of information while scaling simultaneously," said Robin Schumacher, vice president of products, DataStax.
"With its new capabilities, DataStax Enterprise 4.6 customers have the confidence that their database platform can continually handle today's modern applications, especially in the event of unexpected downtime."