BG Srinivas is leaving Infosys
I wouldn't normally do a blog about a senior IT executive leaving a company, but I am making an exception for BG Srinivas, who resigned his post of president of Infosys recently.

Download this free guide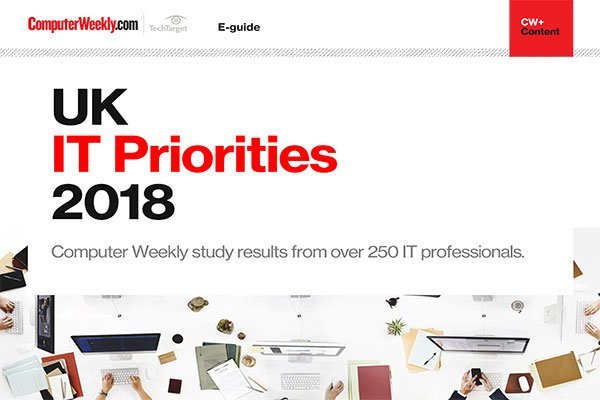 UK IT Priorities 2018 survey results
Download this e-guide to discover the results of our 2018 UK IT Priorities survey, where IT leaders shared with us what they are going to be investing in over the coming 12 months.
By submitting your personal information, you agree that TechTarget and its partners may contact you regarding relevant content, products and special offers.
You also agree that your personal information may be transferred and processed in the United States, and that you have read and agree to the Terms of Use and the Privacy Policy.
BG has been a good friend of this blog and contributed articles to it during his visits to the World Economic Forum in Davos, Switzerland.
He has posted for this blog from Davos since 2010.
I was expecting him to be the next CEO at Infosys as his name has been heavily linked to the soon to be vacant post.
But he has now resigned and will start working for Hong Kong-based telecommunications, media, IT solutions and property development company PCCW as group managing director starting next month.
S. D. Shibulal, Chief Executive Officer and Managing Director at Infosys said, "During his tenure at Infosys, BG Srinivas played a pivotal role in building the Enterprise Solutions Unit, strengthening our business in Europe and driving growth in key business verticals. I would like to wish him the very best."
Srinivas said, "I thank Infosys for the wonderful opportunity given to me. My tenure at Infosys has been one of my most rewarding experiences, and I am proud to have contributed to the best growth story in the industry. I wish the Board and Infosys the best of success in the future."
Here are BG's blog posts from Davos.
2010:
Infosys European head blogs from Davos
Infosys European head blogs from Davos – part 2
Infosys European head blogs from Davos – part 3
Infosys European head blogs from Davos – part 4
2011
Why Infosys is attending the World Economic Forum in Davos
Infosys feels a sense of urgency at the WEF in Davos
Russian president sends a message to terrorists at World Economic Forum in Davos
Optimism in Davos as World Economic Forum kicks off, says Infosys
Infosys signs off at World Economic Forum in Davos
2013
News from Davos is less stressed with no crisis – BG Srinivas at Infosys reports
2014
Infosys leader reports from Davos
Here is a post BG did for this blog about the failed NHS IT project.
NHS IT project is dead, but why do large IT projects fail? Part 23