iPhone 3G S vs iPhone 3G vs Should I bother?
To say the hype-o-meter was a bit OTT is a complete understatement. At one point on Sunday, I actually couldn't see the real news amidst the iPhone rumours on my Google reader.
There could have been a mass evacuation message and I would've been reading a rumour about how the new iPhone is able to float on water.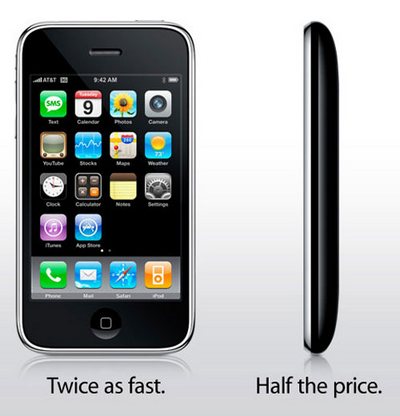 So, was it worth it? In a nutsehll, no. While it is better than the 3G and most other phones, it's not so much better that you should shell out a couple of hundred bucks and discard your 3G.
Even if you have a crappy phone and was going to get an iPhone anyway I'm not sure it's worth getting a 3G S for the difference in price.
I've drawn up a comparison table below to help you decide.
Phone

iPhone 3G S

iPhone 3G

Standard phones

Price

$199 / $299

$99

Free usually

Camera

3mp

2mp

At least 5mp

Battery

Talk time = up to 12hrs

Talk time = up to 10hrs

Talk time = up to 15hrs

Apps

Great

Almost great

Crap

New features

Video camera

None

They all have one

Voice control

None

Who cares

Compass

None

G1 and some others