Video: Gadget Show's Suzi Perry gives her verdict on the iPad 2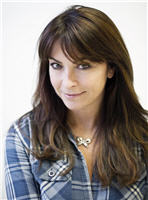 Going to an Apple event, you tend to get a lot of men… a lot of geeky guys with skinny jeans, weird facial hair, wacky dress sense and glasses with thick frames.
So it was nice to see Suzi Perry in the thick of the crowd getting to grips with the iPad 2.
I managed to grab her for a minute to see what she thought of it.
brightcove.createExperiences();