TechCrunch Europa Awards - quick roundup
Last night I got to go to the TechCrunch Europa Awards bash which was great fun and, as you might've guessed, a fantastic networking opportunity.
Highlights of the do were that Poken won Best European / Real World Gadget (Renate pictured) which I was happy about as I reviewed it a couple of months ago, Spotify cleaned up winning around four awards, Huddle got Best Enterprise / B2B Startup and Songkick won Best design. The full list is below.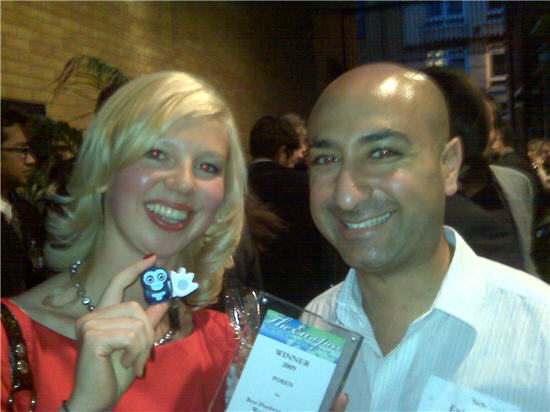 I'd also like to give a shout to Joe White of Gandi.net for explaining the URL insanity that will happen in January (when are we getting that article?!?!).
Here are the winners and finalists in each category:
The Europas Shortlist: Best Web Application Or Service (EMEA)
Winner: Spotify
Highly Commended: Amiando
Finalists:
Babbel
Dopplr
Jimdo
The Europas Shortlist: Best Design
Winner: Songkick
Highly Commended: Babbel
Finalists:
IRL Connect
Spotify
Wonga
The Europas Shortlist: Best Bootstrapped Startup (less than 3 years old)
Winner: Soup.io
Highly Commended: Doodle
Finalists:
BookingBug
Mixcloud
Struq
The Europas Shortlist: Best Social Innovation (which benefits society, EMEA)
Winner: Mendeley
Joint Highly Commended: Amazee, School of Everything
Finalists:
Aleveo
Decisions For Heroes
The Europas Shortlist: Best Enterprise / B2B Startup (EMEA)
Winner: Huddle
Highly Commended: Zendesk
Finalists:
BlueKiwi
FreeAgent Central
VideoPlaza
The Europas Shortlist: Best Cleantech / Environmental Startup (EMEA)
Winner: Alertme
Highly Commended: Amee
Finalists:
Dopplr
RouteRank
SpeedSell
The Europas Shortlist: Best European / Real World Gadget (EMEA)
Winner: Poken
Highly Commended: My Name Is E
Finalists:
Fon
INQ Mobile
Modu
The Europas Shortlist: Best Entertainment Application or Service (EMEA)
Winner: SoundCloud
Highly Commended: eRepublik
Finalists:
Moshi Monsters
Playfish
WeeWorld
The Europas Shortlist: Best Mobile Startup (EMEA)
Winner: Nimbuzz
Highly Commended: Goojet
Finalists:
Aka-aki
Bambuser
GetJar
The Europas Shortlist: Best Mobile Application (EMEA)
Winner: Spinvox
Highly Commended: Tweetdeck Mobile
Finalists:
eBuddy
Fring
MobyPicture
Shozu
The Europas Shortlist: Best Startup Founder(s)
Winners: Daniel Ek, Martin Lorentzon, for Spotify
Highly Commended: Alastair Mitchell, Andy McLoughlin, for Huddle.net
Finalists:
Alexander Ljung, Eric Wahlforss, jointly, Soundcloud
Felix Haas, Armin Bauer, Markus Eichinger, Dennis von Ferenczy, Sebastian Baerhold, Marc Bernegger, for Amiando
Richard Jones, Felix Miller, Martin Stiksel, for Last.FM
Richard Moross, Moo
The Europas Shortlist: Best Investor (VC or Angel fund, EMEA)
Winner: TAG – The Accelerator Group
Highly Commended: Index Ventures
Finalists:
Atlas Venture
Eden Ventures
European Founders Fund
The Europas Shortlist: Best Investor Personality (EMEA)
Winner: Yossi Vardi, Angel
Highly Commended: Fred Destin, Atlas Venture
Finalists:
Morten Lund
Robin Klein, TAG
Saul Klein, Seedcamp/Index Ventures
The Europas Shortlist: Best New Startup, Summer 2008-2009
Winner: Spotify
Highly Commended: TweetDeck
Finalists:
SoundCloud
Stupeflix
Tweetmeme
The Europas Grand Prix
Decided by Judges vote only
Winner: Spotify