Smart Kapp - An image capture dry-wipe whiteboard
SMART technologies, the company which brought interactive whiteboards into our classrooms, has developed a new dry-erase whiteboard capable of sending images to your smartphone.
The digital capture white board is designed to replace the paper flip-chart often seen in meetings and conferences.
It comes with a dry-erase marker, a board rubber, and a power cable. And that's it.
The setup was designed to be as simple as hanging a whiteboard in a meeting room. All that's needed to use the mirroring capabilities is for one person in the meeting to have a smartphone running Android or iOS.
Windows phone is currently out of the loop, but images can be taken from the board via USB as well. Negotiations are currently taking place over the direction of using Windows Phone with the Kapp, so watch this space.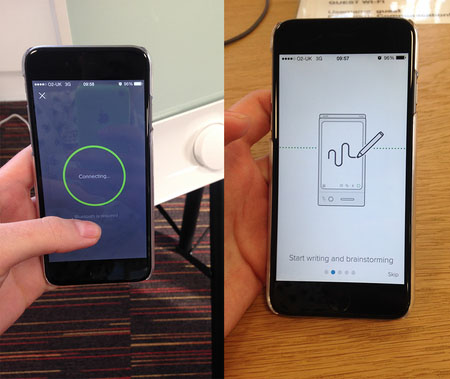 One person takes control of the meeting by scanning the board's QR code through the dedicated app, or tapping the NFC spot. Once activated, anything on the board will appear in the smartphone session.
Snapshots can be taken of the board at a specific point in time to ensure important information isn't erased, and people can be added to the meeting using links which are trashed after the meeting ends, or emailed images of the board while the meeting is in session.
The board is programmed to recognise the measurements of of a dry-wipe marker and mirrors any indication of pressure on the app. So technically, you could use a stylus with the same diameter as a marker tip to write secret messages on the board that would only register to smartphone participants.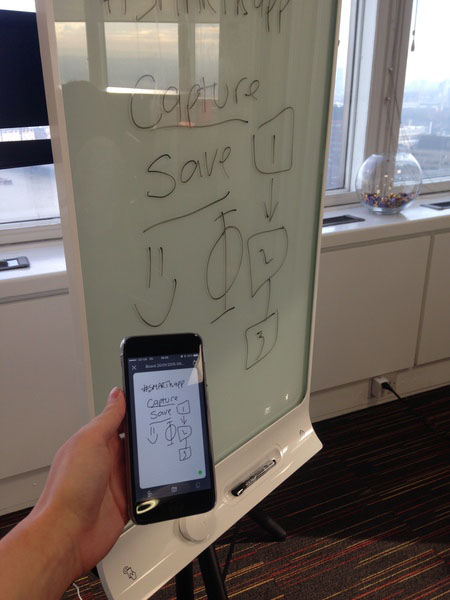 In particular the company has seen great interest from the hotel industry for use in conference rooms, and hotels would no longer have to worry about providing paper.
But the most interesting thing about the board is the vast number of industries interested in this particular product – something unusual for a business-focused gadget.
"Dry erase boards are ubiquitous, there's no particular industry where you would say 'it's just for these guys and them only'." explains Christine Alford, manager of SMART marketing communications.
This week the company announced a huge 84 inch model of the board, the Kapp 84, which is now available on pre-order, and premium services offering a free upgrade to the smart mobile application to allow up to 250 participants per session.
The smaller version will set you back £599, while the 84 inch board is £849.