REVIEW: Dux iPad Air case
It's almost impossible to complete a daily commute in London without spotting someone using a sad looking phone with a badly bashed up screen.
Smashed iPads are spotted less frequently, but it has been done, and there's nothing sadder than squinting through a myriad of cracks as you try but fail to make out the latest episode of 'Game of Thrones' on the tube.
The Dux iPad Air case by STM bags promises military grade protection for your device to help you to avoid this very situation. This means drops from over 6 feet with no damage, and water resistance for clumsy days. It has been tested to 'meet or exceed' US Department of Defense Standard 810F/G durability tests, and hopefully that means it keeps your device totally safe.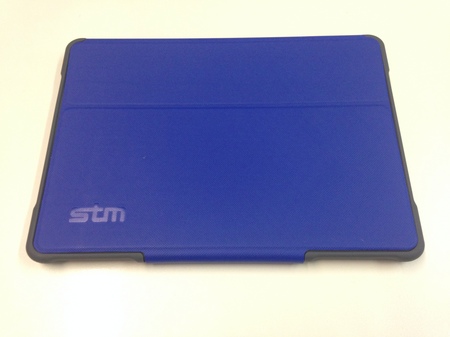 The case is quite heavy, and combined with the iPad feels weighty, but is still portable. It's very sturdy, and once you've put your iPad in it, there is no danger of it slipping out what-so-ever. The case adds a few millimetres to the outside of the device, but has very clear recesses exposing ports, speakers and microphones, and does not hinder their use. Unfortunately the same cannot be said about the volume and power buttons, which are enclosed in the case and can be quite difficult to press at times.
This isn't too much of a problem in terms of the power button, as the felt lined protective screen flap switches the iPad on when opened and off when closed to preserve battery. This magnetic flap also wraps around the side of the case, making it less likely to pop open if dropped. Sometimes the flap doesn't lay snug against the case, but this is easily solved by positioning it properly. You can see the back of your iPad through the clear rear panel, and STM suggests using this as an opportunity for customisation by inserting pictures.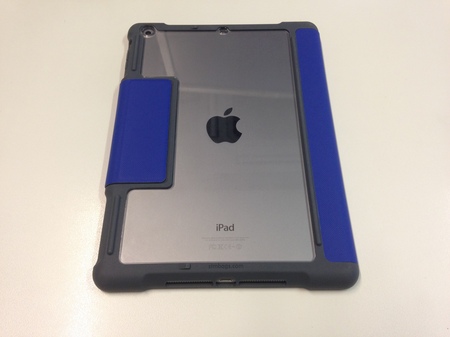 I tested the case with my iPad Air, and was told by STM that they weren't able to reimburse me if I dropped my device and broke it whilst using the case – although they assured me that a breakage was very unlikely. I dropped it a couple of times, and was brave enough to drop it on its corner from desk height and everything was fine. The sturdy corners prevented any damage and the screen didn't crack. I didn't want to tempt fate any further, so that's as far as my testing went. There are videos of more rigorous tests on their website, and I've included one below to show how durable the case really is:
Video: STM on YouTube
One criticism of the case is that the folding flap isn't very sturdy when folding it back to stand the case up. The case is meant to fold back and clip magnetically to allow you to stand the case for watching videos or typing. This didn't really work for me, and the case fell over a few times.
All in all if it's durability you're looking for this case lives up to its promise of protection, and would better suit an environment where users are out and about or in danger of dropping the device during use.