IFA 2014: Samsung's first business tablet
Samsung
is well known for its consumer offerings, providing everything from TVs to connected fridges. So the technology firm surprised us all today when it announced its first ever business-focussed tablet designed for use in enterprises.
The ruggedised Galaxy Tab Active has been developed for portable use in work environments with a focus on B2B industries such as retail, logistics and transport.
Other tablets, such as
the iPad Air
, have features built in to make it easier for employees to use their devices at work, but they are still clearly consumer products. The Tab Active takes that one step further and combines features such as 8-10 hour battery life, KNOX and extended support, with an anti-shock cover.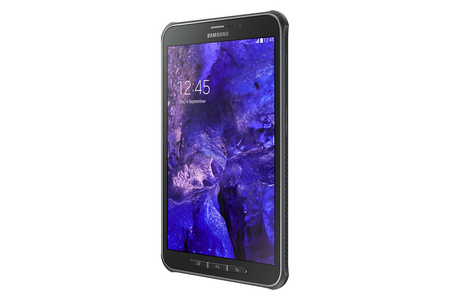 Photo: Samsung
To make absolutely sure the tablet appealed to business customers, Samsung ran workshops with Fortune 500 companies to find out what was needed from a tablet for professionals. This is what they came up with:
Durability
When professionals are carrying around their tablet, they want to be able to drop it. This is what I've learnt from releases of products such as the
Panasonic Toughpad
. Suddenly when a device is used for work as opposed to personal tasks, we need to be able to make sure it will survive a nasty fall. The Galaxy Tab is shock-resistant, waterproof and resistant to dust and other nasties that can get stuck in cracks, so should be safe to use in every environment.
Replaceable battery
When you're out and about all day, you want to make sure your device is going to last in case you can't charge it. This device has 8-10 hour battery life and an easy to change battery to ensure the devices doesn't run out on you. It also has a built-in pogo pin charger to stop connectors getting mashed.
Hardware features
The built-in camera on this devices can be used as a barcode reader for use in the retail or logistic industry. The tablet also features NFC technology, comes with an input pen for ease of use and a cover designed for people who need to wear gloves when doing their jobs.
Support
Support is something that a lot of firms can struggle with
when implementing a BYOD solution, as it can be difficult to get ongoing support contracts for the devices that employees want most. But, like most Samsung devices, the Galaxy Tab Active will have KNOX to ensure security. The device will also have an extended 3 year warranty and Mobile Care Service, and remote Smart Tutor Service to get technical support.
Specs at a glance
Samsung Galaxy Tab Active
Processor: 1.2 GHz Quad-Core Processor
Display: 8″ WXGA(1280 x 800) TFT LCD
OS: Android Kitkat (4.4)
Memory: 1.5GB LPDDR3 + 16GB internal memory MicroSD up to 64GB
Size: 126.1 x 212.9 x 9.75mm / 388g