HTC have a new phone coming, dunno what it's called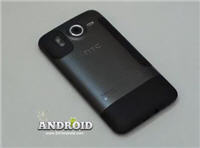 Just my luck that when I decide to invest my hard-earned money into a HTC Desire, a leak appears of the HTC Desire HD. Check out the video below.
I'm genuinely really annoyed.
What does extras does it have? Bigger screen (4.3″), dual LED flash and, of course, HD recording.
Not massive differences but still… if they named it something else then I'd be happy. They might still do it.
If you're reading this, please send HTC an email and ask for this to happen.
I'll do it too. Promise.