Google extends its Nexus family
Hurricane Sandy may have prevented Google's press conference in New York from making a big announcement today, but the company has released product details on its official blog.
Google has announced three new
Nexus devices
available in "small, medium and large".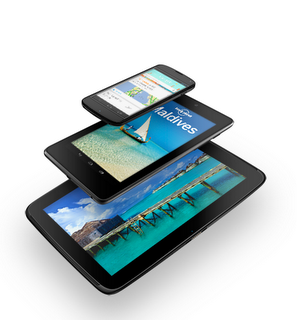 The devices include a smartphone as well as a 7 and a 10 inch tablet, all of which run Android 4.2.
Nexus 4 smartphone.
This smart cookie comes with a quad-core processor and… wait for it… wireless charging!
Just like the Nokia Lumia 920
, you can place the device on charging plates to easily recharge, I'm quite excited at that prospect of this taking off in upcoming phone launches.
Again, like the
Lumia,
the 4.7 inch (320 ppi) display encourages using your phone for photography with Google applications such as Photo Sphere.
Nexus 7 tablet
The improved Nexus 7 tablet now comes with 16GB or 32GB of storage as well as offering a version with mobile connectivity.
No 4G to be seen here
, the 3G connectivity will be available from Three in the UK.
The new Nexus 10
This new addition to the Google family, claims to be the "highest resolution tablet on the planet at 2560-by-1600 (300ppi), that's over 4 million pixels." Also available in 16 and 32GB, it has nine hours of video playback and 500 hours of standby time.
The Android 4.2 operating system allows multiple users to switch from the lockscreen. With business users taking their personal devices into the office more and more, there is a potential keep different profiles for home and work use.
The Wi-Fi version of the Nexus 7 is available in the UK from today, while the 3G version as well as the Nexus 4 and Nexus 10 will be available from mid-November