CES 2015: The Lenovo Yoga Tablet 2 with new AnyPen technology
Lenovo launched its new affordable smartphone at CES this year, the A6000 smartphone available in the Indian market through exclusive online partner Flipkart.
What I found more interesting was the launch of its new AnyPen technology which, as the name suggests, allows you to use anything you want as a pen for the Yoga tablet 2.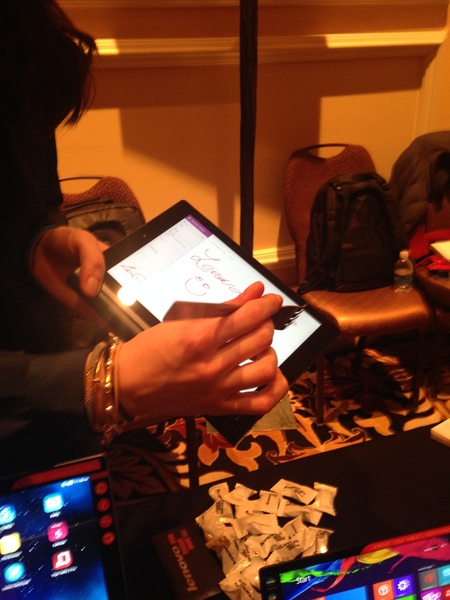 The tablet itself is quite light, and has the Yoga-style battery across the bottom which allows for a nice comfy hand hold for when using vertically, and holds the kickstand for when using horizontally on a flat surface.
The Yoga 2 runs Windows 8.1 and has in Intel Atom Quad-Core processor to ensure speed. Its 8 inch display in in HD and the devices features front and rear cameras.
The AnyPen function proves very good for reaching small fiddley bits of the screen, especially for example when using the desktop function on Windows 8 where the icons can get quite small on the 8inch screen.
I tested the screen out using a fork and a pen-knife, which I was worried about at first until I was informed that the screen is scratch resistant.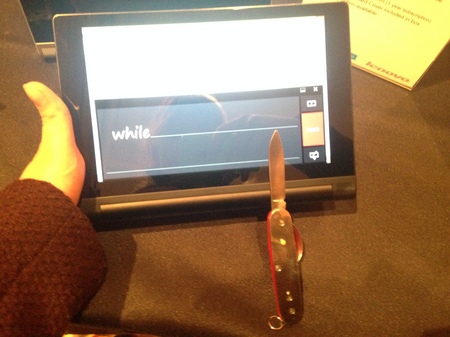 There is one catch though, your chosen stylus must be conductive in order to work, so anything metal works a treat.
When using applications such as word can be fun with AnyPen, and your handwriting is converted into text-based words to allow you to review them ahead of inserting them into the document to ensure they are correct.
The tablet is currently available for a price tag of around $279, and stick on an extra $20 to use the AnyPen feature.