BlackBerry Live 2013: Hands on with the BlackBerry Q5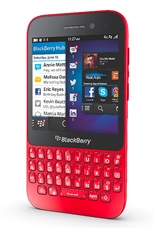 BlackBerry's third handset to sit on the BlackBerry 10 operating system was announced today at BlackBerry Live in Orlando, Florida. The mid-range Q5 device sports a QWERTY keyboard and is aimed primarily at users in emerging markets, however, UK MD Rob Orr told me that its roll out in the UK and Europe will be significant for the enterprise. Orr said that the Q5, (which claims most of the features of its big brother Q10 device, but at a lower price point) will be another option for corporations wanting to roll out significant numbers of mobile devices.

Download this free guide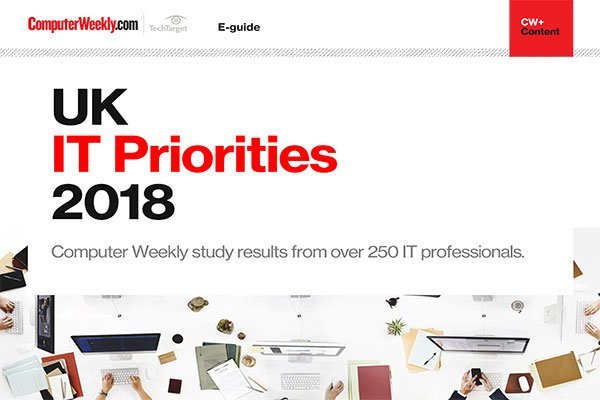 UK IT Priorities 2018 survey results
Download this e-guide to discover the results of our 2018 UK IT Priorities survey, where IT leaders shared with us what they are going to be investing in over the coming 12 months.
By submitting your personal information, you agree that TechTarget and its partners may contact you regarding relevant content, products and special offers.
You also agree that your personal information may be transferred and processed in the United States, and that you have read and agree to the Terms of Use and the Privacy Policy.
The device has of course cut a few corners in order to lower its price (which has not yet been disclose, but as a mid-range device, I doubt it would come at under £150). The device has not cut corners on BlackBerry 10, all the features available on the OS will be available on the Q5.
First impressions with a Q10 in my left hand and a Q5 in my right, was that the Q5 did feel lighter and the material wasn't as high quality. However, I was expecting it to feel really cheap, and I was surprised that it didn't. I don't know if that is the familiarity of the QWERTY keyboard which automatically adds on a few BlackBerry pounds, but it certainly didn't feel as cheap as many mid-range Androids out there at the moment.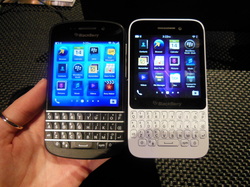 While I agree to some degree with guest blogger, David McClelland, that the Q10 is a "refined, understated and handsome handset" with an "air of familiarity", the Q10's pulling power is all under the hood. Therefore lacking the Q10's processing power would be one of the cut backs.
The device runs the update to BB10 – BB10.1 which was launched at the event today. It weighs a mere 120g (the Q10 139g), and stands at 120mm x 66mm x 10.8mm (10.5mm for non-NFC model).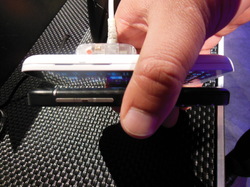 I noticed a difference in the screen, the Q5 was not as sharp as the Q10, which I can only put down to the LDC display (the Q10 has a Super AMOLED), as both devices have 720 resolution at 329 PPI. The Q5 has a downgraded camera to 5MP, it also has less memory at 2 GB RAM, 8 GB Flash with a microSD slot (up to 32 GB), and the battery is not swappable like the Q10.
However, it is 4G ready and has NFC to support file exchanges and mobile payments, which suggests that this device will not be purely aimed at the emerging markets.
Available in the traditional black and white, as well as red and pink, this again suggests that BlackBerry is hedging its bets over who to aim the device at: consumers or enterprise? I think the device will slide into the place of the BlackBerry Curve which did really well across the board, I can see kids BBM-ing about the weekend's riots, oh sorry, I mean party; while enterprise users will be able to use all the exclusive functionalities of BB10 including BlackBerry Balance and BlackBerry Enterprise Services on a lower cost device.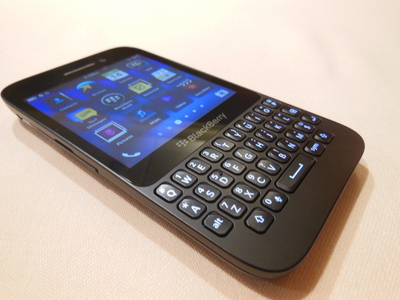 At the end of the day, when comparing the two devices it is extremely difficult to say which is worthwhile until we have a price, which BlackBerry should be announcing in July. If the Q5 does ship at a sensible £200-£300 mark, it would be very competitive for enterprises looking at £500 for a smartphone these days (BlackBerry Q10 is shipping at a pricey £580). However, if it launches at more the £350-£400 mark I'm not sure if the Q5 specs would be worth the downgrade.