Microsoft, Lloyds Banking Group and Deloitte attract more young people to IT with careers video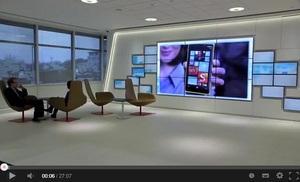 Microsoft, Lloyds Banking Group and Deloitte have funded a 30-minute documentary aiming to encourage more young people into the IT sector.
Produced by online advice hub www.CareerPlayer.com the video aims to showcase IT as a compelling and rewarding career. Technology professionals outline the opportunities available in the sector and share their career journeys.
The video will become part of the GCSE curriculum for IT and Computing.
Rob Wescott, from CareerPlayer.com said: "The point of the video is to dispel the myths that IT is only for techie guys with no social skills. The reality is very different.
Technology shapes the world we live in and young people are highly valued in one of the most vibrant and fast growing careers open to them."
Cheryl Newton, CIO group operations, group IT, at Lloyds Banking Group, said: "IT is the backbone of everything that we do. There are so many different roles you can perform within IT. If you are naturally inquisitive, intrigued about innovation, curious about cutting edge technology, and you want a job that provides excitement and some fun, then IT is the place for you."
According to eSkills Technology Insights Report 2012 47% of IT and telecoms professionals are aged 40+, whereas the amount of 16-29 year olds declined from 32% to 19% between 2001 and 2011.
The number of A-Level Computing students has dropped by 61% since 2003 and the number of GCSE Computing students has fallen by 70% since 2005.