Porno helps IT manager/hacker get revenge on boss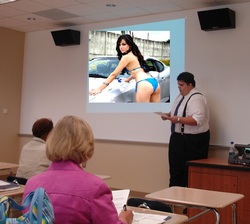 You've been sacked by your boss. Your life is slipping away from you.
Time to get a grip. Time to get revenge.
And those are the two things that 52-year-old Walter Powell did with the power of porno.
Some people will use a gun, some use knives and some just use plain old backchat but Walter used the most dangerous weapon in the world.
The human body.
Having been fired the former IT manager at Baltimore Substance Abuse System (I know, right? no wonder the guy freaked out, he was off his head!) Walter hacked into his old boss's system and stole his passwords.
During a CEO presentation to the board, Walter struck by taking remote control of the computer and projecting what can only be described as 'tasteful' porn onto the screen therefore humiliating his old boss and being hailed as a visionary.
Since the incident, Powell has been given a two year suspended sentence and ordered to do 100 hours of community service and three years' probation.
SO worth it.
Thanks to Graham Cluley for the story.