Vote now in our ComputerWeekly.com IT blog awards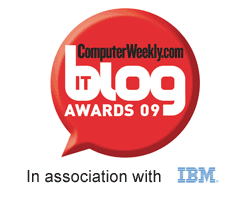 It's time to have your say and cast your vote in the 2009 ComputerWeekly.com IT blog awards, in association with IBM.
Now that our nominated blogs, and twitter users of the year, have been whittled down to manageable shortlists, it's time for IT professionals to decide who are the best blogs and twitterers.
So get stuck in and cast your vote, I am sure you will find some new blogs that will be valuable sources of information as you look through the shortlists.
This year we have received the highest ever number of nominations and the introduction of some increasingly competitive categories, such as IT professional male and the IT twitter user of the year awards, have introduced some controversy and excitement!
To view the shortlist and vote go to www.computerweekly.com/voteblogs.
I will confess its not been easy to set up the right categories for this year's blog awards, and we still haven't got it quite right yet, so we will keep tweaking each year. Click here to see the full list of categories and shortlisted blogs. I think of it like good web development – its a process of iteration. Each year we learn and improve for the next year.
However, I am sure you will find that there are some cracking blogs in each category and we will have some worthy winners…. go on have your say and cast your vote now!