Revealed: Biggest financial worries for companies in 2013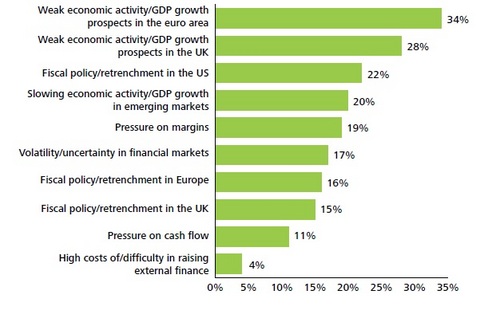 % of CFOs who are very concerned

The overriding concern for UK businesses as they enter 2013 is the prospect of weak growth in Europe and the UK. Concerns about growth and other external factors, including the potential of a slow down in emerging markets and volatility in financial markets, weigh more heavily that internal issues, such as pressure on cash flow and the difficulty of raising external finance.
These findings, from Deloitte's survey of 112 UK Chief Financial Officers, including the CFO's of 30 FTSE 100 and 38 FTSE 250 companies, could have a significant impact on company's IT strategies this year. Although CFOs are open to
growth possibilities, many will looking to keep costs firmly under control in 2013, Deloitte concludes.
CIOs can take the initiative to keep costs down by renegotiating contracts with suppliers and reducing the
cost of IT infrastructure by moving to the cloud
and software as a service (SaaS), says Kevin
Walsh, practice leader for technology consulting at Deloitte.
You can download a copy of Deloitte's CFO survey here.