TechEd ITPro - Day 2 - Come and get it, its all free!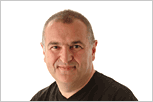 Well maybe not quite all of it, but if you are reading this in Barcelona then send a email to [email protected] and this Friday you can have a full day of free Groove training. At the end of this blog is the announcement with all the information.
Day 2 was tremendous, building out my MS network, learning more about how the team works and appearing on TechEd TV playing 'Jeremy Paxman' to my colleague Mark Ryan's 'Prime Minister'. The output from the encounter will be online in a couple of weeks and if it is not too embarrassing then I will link to it here.
The day's highlight was the taxi ride to the hotel from the Port Olympic. The driver suggested we could go to a great club to meet some 'girls'. Obviously I look like more of a sap than I think! We laughed.
Back to late night cheering in the Hilton bar as the expected presidential outcome became reality. It of course changes everything. I think it will be interesting to see if there is a short term Obama 'bounce' prior to inauguration in January.
OK, here is the announcement I mentioned earlier:
Tech Ed IT Forum and Tech Ed Developer registrants are invited to attend the Groove 2007 Fundamentals & Technical Training course. Participating in this training will help prepare you for taking and passing the Microsoft Certified Technical Specialist Exam 70-555: Configuring Microsoft Office Groove 2007.
This course will outline Groove solutions in market, how SharePoint & Groove work together, and how to deploy and support Groove in your organization. The training includes presentations, labs, and Q&A discussions. The Hands on Labs will focus on the Groove client as well as installing and configuring the Groove Servers. You will leave the class with a solid understanding of the Groove platform and its underlying services, including the unique aspects of a decentralized architecture, communications, security, data bridge, relay and management services.
This event will have 200 – 300 level technical focus. IT Pros, Microsoft field personnel, Developers, and anyone else interested in learning about deploying Office Groove 2007 are welcome to attend. Please spread the word to inform your colleagues about this valuable training opportunity!
There is no additional cost for Tech Ed delegates to attend this training session. However, you must register in advance since space is limited. Cancellations must be received at least 48 hours before the event begins to accommodate others wanting to participate.

Attendees will be provided free access codes for all 6 of the Groove Server e-Learning courses currently available. In addition, attendees who complete this course (who are not Microsoft employees) will receive a free voucher for the Groove certification exam.

Lunch will be provided during the session.
How to Register for This Event
Advance registration is required and space is limited, so sign up now. To register, click this link to send an email to [email protected]
Because we will utilize Microsoft MSL's e-learning modules for many of the Labs and will be accessing Groove Hosted Services, a Windows Live ID is required. If you have not created one, you should do so before the event to save time. Click here to create a Windows Live ID.
Oh and if anyone has seen Mark's mobile please let me know