Sex, drugs and rock & routers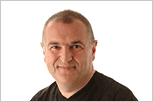 If you want frivolous postings then my personal blog is normally the place to visit. But in the spirit that because we in the IT community can be a bit po faced from time to time, it is nice to show we have a human touch; I bring you a fantastic YouTube clip brought to my attention by my colleague Gareth Howell.
It is worth watching the whole clip and for those of you struggling with your home internet configurations this may make you realise – you are not alone
A big 'up' to the man who composed and performed this, Gary Feldman.