Planning recovery # Tip 2 Choose your civilisation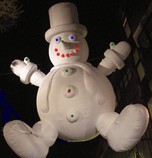 An article from The Straits Times titled Back to the future.txt provoked this entry. While the author, Ho Kwon Ping, talks in terms of years about the realignment of cultures my reading is that as events are happening faster and with more intensity than predicted, early planning may be wise.
My understanding of Ping's polemic is that there's an opportunity to find not just emerging markets to work in but emerging cultures.
If you are struggling with a business model that doesn't seem to have a future in the 'western sense of capitalism' then start looking elsewhere, as the future will happen!