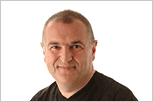 I am sitting in a quiet little back water in the City of London, sipping on a skinny latte. It's a sunny day, pleasantly warm for this time of year and a nice resting place in between appointments. Next to me are a tablefull of 'advertising' types who are unintentionally doing great impressions of Harry Enfield's 'feel my wad' character, Loadsamoney, from the 80's.
Its good to see that even in these recessive times ostentatious and loutish behaviour has not died.
Oh goody, we've moved on to cars now!