Internet overhaul wins approval - or is it only a lick of paint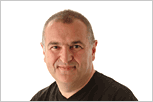 According to this BBC news story it is going to become open season for TLDs. Although this will really release some of the pent up demand for innovative branding I expect it will give a new lease of life to cyber-squatters.
With IPv6 still not widely deployed and the end-haul to homes lagging in speed compared to enterprising countries in the far east I hope this is more that a bit of tokenism.