IBM launches Hosted Notes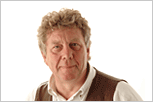 IBM has launched a hosted version of its Lotus Notes messaging software, allowing companies with 1,000 to 10,000 employees to use the messaging platform without the need to purchase and install software. The company said that the Lotus Notes Hosted Messaging service will cost under $10 (£6.13) per user per month.
The service is IBM's effort to remodel the Lotus Notes communication suite as a web-based service. Previous moves have included the launch of email clients for the iPhone based on the Domino webmail system.