I can't help but watch the progress of Ray Ozzie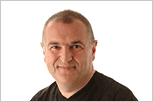 I have known Ray (very slightly) for a long time now and I have watched his progress as the legendary progenitor of Lotus Notes moved from Iris to IBM and then from Groove to Microsoft (maybe he will get to rename it 'MicroRiff').

The blogoshpere over recent months has been getting impatient waiting for Ray to pull a magical technological rabbit out of the Microsoft hat.
This week at MIX08, Ray was squarely 'front and center' and thus caught the attention of the BBC reporting him very positively as the key player at this event.
I know that MS has a chequered history but I also know Ray can bring to its culture a set of technolgy principles that overall are constructive and forward looking.