Do you know anyone with asthma????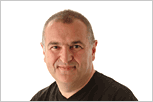 If you do and you want to help them just pop along to channelswim4asthmauk where an old IBM friend is doing her bit by doggie-paddling across the English Channel (for my French friends, La Manche). Well I expect it will be a bit better than the doggie paddle.
I know all donations will be gratefully received no matter what size.
Hey, make it your good deed for today!
ps this is Social Networking at its most 'social'