Collaborating, its a team thing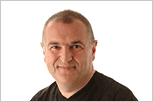 Mark Ryan at Microsoft brought to my attention a blog entry addressing optimal sizes for terrorist groups which looks at the break point points for effective small, medium and large sized teams.

From this entry I ended up looking at the source material on the Dunbar Number and found this rather interesting post analysing the consequences of this number. For any small or medium sized business wondering where is went wrong or how to move ahead this makes interesting reading. I know I have been there!