Avoid thinking unilaterally, collaborate with strangers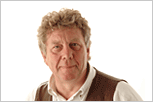 Hard times demand action. To make tough decisions, you need input. If you seek it from people you know, you only gather ideas from those with the same point of view, resulting in everyone seeking the problem from the same perspective.
To avoid this trap, go out of your way to seek alternate approaches — from maverick thinkers to those you don't know well and are able to voice opinions contrary to your prevailing thoughts. It's all about leadership.