Microsoft Patch Tuesday Update - 8th March 2011
With this Microsoft Patch Tuesday update, we see a relatively small set of updates in comparison to those lists of updates released by Microsoft for the month of January and February. In total there are three Microsoft Security Updates with the following rating; 1 Critical, and 2 rated Important. This is a small update from Microsoft and the potential impact for the updates is likely to be very small.
As part of the Patch Tuesday Security Update analysis performed by the ChangeBASE AOK team, we have seen very little cause for potential compatibility issues; in fact, this patch update raised no issues against our sample database.
Given the nature of the changes and updates included in each of these patches, most systems will require a reboot to successfully implement any and all of the patches and updates released in this March Patch Tuesday release cycle.
Testing Summary
As part of the testing Summary for this March 2011 Patch Tuesday update, here is a quick snap-shot the AOK Summary results page generated from these 3 Plugins on a small sample database:

And, here is the table summary of the results:
| | |
| --- | --- |
| MS11-015 | Vulnerabilities in Windows Media Could Allow Remote Code Execution (2510030) |
| MS11-016 | Vulnerability in Microsoft Groove Could Allow Remote Code Execution (2494047) |
| MS11-017 | Vulnerability in Remote Desktop Client Could Allow Remote Code Execution (2508062) |


Security Update Detailed Summary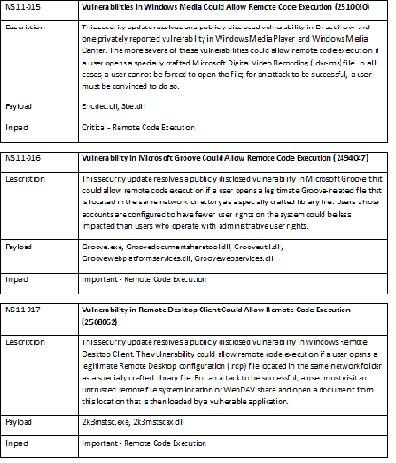 *All results are based on an AOK Application Compatibility Lab's test portfolio of over 1,000 applications.