Sage & Onions: a new UK developer platform
Business management software company Sage Labs has cooked up a new online portal designed to help its UK developer community build add-ons and extensions for its mid market software.
The company wants to allow developers to peel off, slice up, download, modify and use source code under a permissive open source licence. Sage also wants encourage the development of new business management solutions that meet (as they put it) "the most diverse business needs" today.
"By feeding new solutions into our developer channel, Sage Labs encourages open standards and provides an outlet for inspiring our developer community to push the boundaries of innovation," said Stuart Lynn, Head of R&D for the company's mid market division.
Sage insists that the benefits of this new "development with no tears" initiative will be seen on both financial and practical levels, as the infrastructure cost for the new initiative is zero and assets such as the existing developer area and developer blogs have been leveraged.
The first project to be sautéed up in the Sage Labs frying pan is an extension to the Sage 200 suite, which allows Sage 200 data to be configured and uniquely integrated with map data on the web.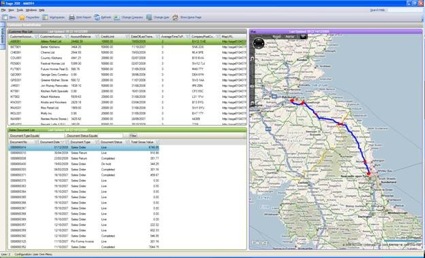 Sage example workspace with maps
Commenting upon the benefits of Sage Labs, Aaron Blake, consultant at Eventura.com said, "The Sage 200 Labs initiative gives developers the building blocks to be able to construct Sage 200 Add-ons with the help of other Sage Developers through the use of the forum. The new Bing Maps Workspace proves how malleable the Sage 200 System can be with the right tools and communication platform between Sage and its developers."