SAP 'cloud & developer lead' Vishal Sikka resigns
SAP's lead innovation man Dr Vishal Sikka has resigned.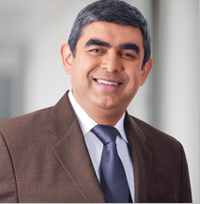 Formerly known as executive board member for products and innovation, many have come to regard Sikka as the company's lead spokesperson and visionary on cloud and software application development.
Dr Sikka has stepped down for personal reasons.
SAP's official statement from Hasso Plattner, chairman of the supervisory board of SAP AG read as follows:
"No company in the industry can do what SAP can do in the cloud with the SAP HANA platform today. I would like to personally thank Vishal for his contribution to take SAP to this stage. We will remain friends as he pursues the next step in his journey."
Industry commentators have of course labelled Sikka's departure as 'bad timing' given the proximity of the firm's Sapphire Now customer event scheduled for Orlando this June.
The Computer Weekly Developer Network has, on the other hand, been able to meet an extensive set of SAP cloud and developer evangelists and practitioners at user group events, programming hackathons and code jams and so… by way of offering a blog-centric opinion, we feel that the 'PR scales' were perhaps over-focused on Sikka's keynotes anyway — SAP has a strong technical underbelly and it is not a one man (or woman) operation.
SAP will now appoint Robert Enslin and Bernd Leukert to the executive board to lead the firm's efforts to transition to the cloud and promote the development of the SAP HANA cloud platform.