SAP Press continues commitment to Sybase (sorry, SAP) ASE 16
SAP has used its 'Press' publishing division to release a new volume entitled SAP ASE / Sybase ASE 16 Administration.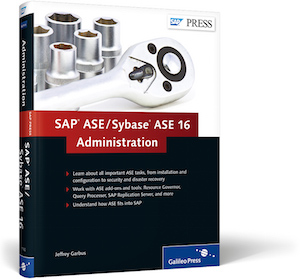 Written by Jeffrey (Jeff to all that know him) Garbus, the book encourages readers to "skip the marketing jargon" and jump right into the heart of the major tasks for administering SAP ASE 16.
One step to (data) developers
Closely related to what used to be Sybase's (now SAP) Rapid Application Development tool offering PowerBuilder, SAP ASE 16 continues to represent a fully functional relational model database server product for many businesses.
According to reading notes for the Garbus book:
"Starting with an introduction to the database and an installation overview, this book is packed with information you'll use on any platform. Get the details you need to define database storage areas, create database elements, work with security and user roles, manage backup and restoration, achieve high availability."
Learn about all important ASE tasks, from installation and configuration to security and disaster recovery
Work with ASE add-ons and tools: Resource Governor, Query Processer, SAP Replication Server, and more
Understand how ASE fits into the SAP landscape
Commenting on the publication, Garbus made the following statement, "This book has the dual intent of making your job easier by offering method and reasons to the long list of tasks you to perform; and also to help you, if you've never worked with SAP ASE, to learn what that list of tasks is."
About the author
Jeffrey Garbus is a database consultant and CEO of Soaring Eagle Consulting, an RDBMS consulting and training firm. A consultant and trainer for more than 20 years, he currently focuses his work on very large databases, data warehousing, training, and remote database administration.
Editorial disclosure: Adrian Bridgwater works for ISUG-TECH, the wholly independent technical user group for SAP technology users – he is not an employee of SAP and receives no salary or financial benefits from the company.