Cirba sets cloud decision control for the heart of the sun
If software runs the world, then shouldn't software-defined infrastructure control solutions form the mantle and liquid magma at the core of the planet?
This is perhaps the gambit that Cirba is going for with its workload routing and management support for hybrid cloud environments offerings.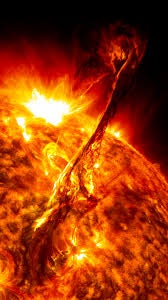 Cirba's team are an equal opportunity cloud DNA kind of bunch – so as such, the workload/management tooling now supports Microsoft Azure, Amazon Web Services (AWS) and IBM SoftLayer.
Correctly routed, Cirba contents that cloud applications can run more effectively.
The firm's technology provides the necessary decision control points for automatically determining where applications can safely run in hybrid environments.
CTO-speak
"It is only through detailed analysis of application requirements against the security, cost and technical capabilities of available public clouds and internal infrastructures that the best hosting environment can be chosen," said Andrew Hillier, co-founder and CTO of Cirba.
The suggestion here is that, without analytics, organisations cannot automate the process nor can they effectively determine how to meet application requirements without risk or excessive cost.
Cirba customers will now have extended visibility into applications that are hosted externally and whether they are appropriately resourced. They will also be able to assess these applications against on-premise hosting environments to determine whether they should be brought back in-house.
Cirba extension
"With this announcement, Cirba extends its existing support for internal VMware vCenter, Microsoft Hyper-V, IBM PowerVM on AIX and Red Hat Enterprise Virtualisation-based environments to external clouds so that customers can seamlessly manage hybrid cloud environments," said the firm.
Through an update to its Reservation Console to be released this summer, Cirba will also automate the process of determining the best hosting environment for applications by simultaneously assessing them against both public clouds and internal environments.
The company explains that in doing so, Cirba's analytics eliminate hosting risk by ensuring all the critical criteria are considered, including compute, storage and network requirements, security considerations, compliance requirements, software licensing requirements and other operational policies.
This capability is underpinned by a web services API and will enable fully-automated workflows.
Centralised policy-based control
Hillier concludes, "Having a centralised policy-based control system for hybrid cloud that provides the necessary checks and balances is critical. Determining where a workload should be hosted and how resources are allocated is fundamental to modern IT infrastructure, and providing automation and governance around this is at the core of cloud and software-defined operational models."