Rob hyrons - Fotolia
HM Treasury committee questions costs of HMRC's Making Tax Digital programme
Committee chairman Andrew Tyrie asks government to clarify costs after small businesses estimate price to be significantly higher
The influential HM Treasury select committee has called for more clarity on the true costs of implementing HM Revenue and Customs' (HMRC) plans for a digital tax system for businesses.

Download this free guide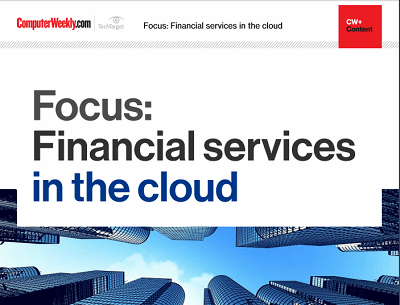 No longer a laggard, financial services in the cloud
Computer Weekly takes a look at how some of the world's biggest financiial brands have moved to the cloud, and share a cautionary tale or two about the mistakes some have made while trying to get there.
By submitting your personal information, you agree that TechTarget and its partners may contact you regarding relevant content, products and special offers.
You also agree that your personal information may be transferred and processed in the United States, and that you have read and agree to the Terms of Use and the Privacy Policy.
Committee chairman Andrew Tyrie has written to the financial secretary to the treasury, Jane Ellison, requesting further detail on HMRC's claim that the Making Tax Digital programme will cost only £280 per UK company to set up.
During the committee's recent inquiry into the project, the Federation of Small Businesses (FSB) said the true cost would be significantly higher – as much as £2,770 per business per year. Tyrie has also written to FSB chairman Mike Cherry asking for the details behind that figure.
"The compliance cost estimates are so far apart that at least one of them must be wrong. I have written to both the HM Treasury and the Federation of Small Businesses to ask for detailed supporting methodology for their estimates," said Tyrie.
"If the FSB is right, the effects of Making Tax Digital would be crippling for many small businesses. If the government is right, businesses have something to gain in the longer term and one would expect them to be queuing up to join the pilot."
In January 2017, HMRC announced measures to ease the move to digital tax submission for UK businesses, following criticism from members of Parliament (MPs) that the programme was "over-ambitious".
The department will conduct pilots with "hundreds of thousands" of businesses to help them prepare for the changes, and will allow firms to keep using spreadsheets to record their finances before linking to software that will upload their accounts to HMRC. It will also provide free software to the smallest firms that cannot afford to buy off-the-shelf applications.
According to HMRC, the three-year transition from the current system to the Making Tax Digital programme is expected to cost UK businesses £1bn – which works out as £280 per company, on average – before delivering savings of £100m per year from 2021.
Read more about Making Tax Digital
The treasury committee has called on HMRC to delay the project, warning that the deadline of April 2018 left insufficient time to prepare for "such a fundamental change". The FSB described the timetable as "a total fantasy".
"The programme cannot begin before 2020 without causing considerable disruption to economic growth, investment and employment. As small business owners plan their approach to Brexit, rushing in mandatory quarterly tax reporting is a headache they just don't need," said Cherry.
HMRC received £1.3bn as part of the government's 2015 spending review towards making tax digital. The roll-out of online personal tax accounts for individuals started in December 2015.
Read more on Financial applications