HP offers Windows 7 PCs with discount
HP is offering a $150 saving on new PCs running Windows 7 in the US, although there is no indication yet whether this offer will be available in the UK and the rest of Europe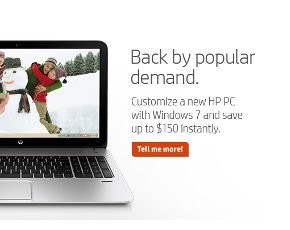 HP is offering a $150 saving on new PCs running Windows 7 in the US, although there is no indication yet whether the offer will be available in the UK and the rest of Europe.

Download this free guide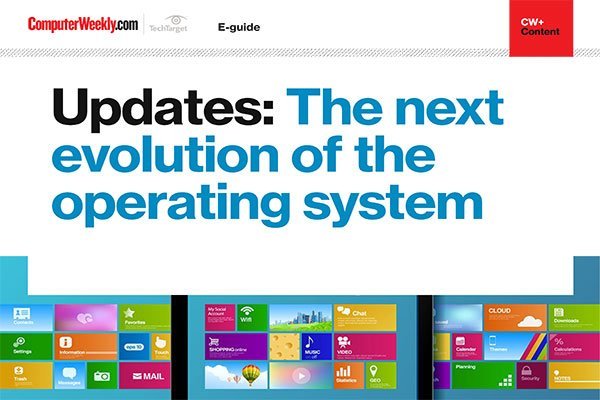 Software Updates: Our latest e-guide is available for your device. Download now?
See how operating systems are evolving with the help of continuous updates and learn about how the Spectre and Meltdown microprocessor flaws have led to improved, more secure processors being released and how Microsoft is evolving its Windows desktop operating system.
By submitting your personal information, you agree that TechTarget and its partners may contact you regarding relevant content, products and special offers.
You also agree that your personal information may be transferred and processed in the United States, and that you have read and agree to the Terms of Use and the Privacy Policy.
The company's "Back by popular demand" campaign, running its US website, is offering discount on PC models, each configured with Windows 7.
The HP Pavilion 15t-n200 Notebook PC with Windows 7 (ENERGY STAR) is priced $599, and uses a 4th generation Intel Core i5-4200U Processor. The equivalent UK model, the HP ENVY TouchSmart 15-j102sa, is priced at $699 with Windows 8.
Businesses have struggled to adopt Windows 8. Part of the reason is that they are migrating from Windows XP, and refreshing PCs with a standard Windows 7 desktop. The other reason is that traditional enterprise applications have not been fully optimised to make the most of the new user interface and touch capability offered in Windows 8.
More articles on Windows
Users also vented frustration over the lack of a Windows 7 Start button, which would allow people to circumvent the touch user interface and run a classic Windows 7 start menu. To overcome this, Microsoft backtracked with the 8.1 refresh of the operating system, providing a Start button, but this took the user back to the tile user interface, rather than presenting a full Start menu.
HP, like other PC manufacturers, has suffered from the decline in PC sales, with a decline of 4.7% in 2013. According to analyst Gartner, the main reason for the decline has been consumers and enterprise users shifting spending towards tablets.
PC suppliers like such as Acer and Asus have moved their focus towards tablets, since the PC shipment share is no longer their top priority, Gartner noted.
However, Windows 8 tablets are pricier than Android devices, especially those that run Windows 8, rather than the lightweight Windows RT operating system.
Read more on Laptops and notebooks