Cyber-criminals to favour financial scams in 2009, says McAfee
Cyber-criminals are exploiting the economic downturn to scam users, according to the 2009 threat report from security firm McAfee.
The...
Cyber-criminals are exploiting the economic downturn to scam users, according to the 2009 threat report from security firmMcAfee.
The coming year will see money-making scams using fake financial transactions, investment firms and legal services, the report said.
Attacks are getting increasingly difficult to track, analyse and protect against, said Greg Day, security analyst at McAfee.
Malware is becoming more dynamic, relying on internet connections to distributed resources to work, he told Computer Weekly.
This makes malwareincreasingly time-consuming to simulate and analyse.
The distribution of malware through legitimate sites and web-based applications is also expected to continue through 2009.
As cloud computing gains popularity, cyber-criminals are likely to targetthese services to steal information for financial gain, said Day.
McAfee expects to see the continued expansion of malware in languages other than English.
Cyber-criminals have come to realise that by diversifying into a global market they can access larger collections of valuable information, the report said.

Download this free guide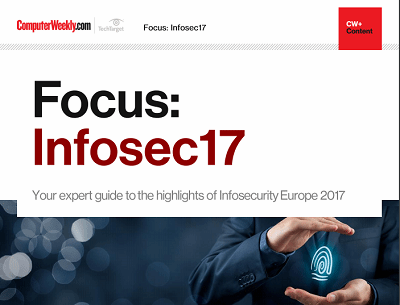 From forensic cyber to encryption: InfoSec17
Security technologist Bruce Schneier's insights and warnings around the regulation of IoT security and forensic cyber psychologist Mary Aiken's comments around the tensions between encryption and state security were the top highlights of the keynote presentations at Infosecurity Europe 2017 in London.
By submitting your personal information, you agree that TechTarget and its partners may contact you regarding relevant content, products and special offers.
You also agree that your personal information may be transferred and processed in the United States, and that you have read and agree to the Terms of Use and the Privacy Policy.
Attacks involving USB sticks and flash-memory devices used in cameras and other consumer electronic devices are expected to increase.
This trend will continue due to the almost unregulated use of flash storage across enterprise environments, the report said.
The underground economy began using mainstream practices to sell fraudulent software in 2008, and McAfee expects this trend to continue.
The report predicts that 2009 will see greater law enforcement collaboration with ISPs following the effective reduction of spam in 2008, when ISPs pulled the plug on spam host McColo.
Read more on IT risk management