Deloitte, Visa and Barclaycard are testing a corporate credit card that allows workers to connect securely to corporate networks.
The credit card has a built-in screen and keypad but is the same size as a normal card and feels the same.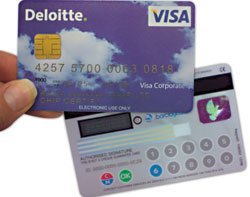 The card allows businesspeople to access corporate IT systems through a virtual private network. It provides two-factor authentication through a one-time pass code generated after the user types in a Pin.
It has the usual functionality of a credit card - chip and Pin, ATM and swipe card reader compatibility.
Up to 500 cardholders are using the cards in a pilot for three months from April 2009.
Having your one-time password generator for the VPN built into your cash card will make it less likely to be lost, said Stephen Ley, partner at Deloitte. It is also less cumbersome than carrying around multiple security tokens and one-off password generators for different jobs.
If successful, the technology could be taken up by businesses.
Deloitte developed the technology with EMUE Technologies.
"The reason Barclaycard and Visa are running this trial is because they are considering rolling it out to their corporate customers," said Ley.
Uses of the card:
Cash card for ATM transactions
Credit card that works in a chip and Pin reader
Swipe card reader-compatible
Pass code generator for secure VPN access
Compatible with Verified by Visa purchase authentication
Can authenticate a bank user online or over the phone.
Email Alerts
Register now to receive ComputerWeekly.com IT-related news, guides and more, delivered to your inbox.
By submitting your personal information, you agree to receive emails regarding relevant products and special offers from TechTarget and its partners. You also agree that your personal information may be transferred and processed in the United States, and that you have read and agree to the
Terms of Use
and the
Privacy Policy
.