London remains world's top business Wi-Fi zone
London remains the top business Wi-Fi city in the world, according to the regular survey from business Wi-Fi management firm iPass.
The iPass Mobile Broadband Index tracks the wireless use patterns of mobile workers around the world. The report shows worldwide business use of iPass Wi-Fi hotspots increased by 46% from the first half of 2007 to the first half of 2008.

Download this free guide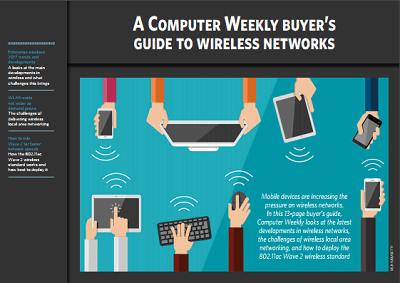 Carrying the heavy wireless burden of mobile devices
Mobile devices are increasing the pressure on wireless networks. In this buyer's guide, Computer Weekly looks at the latest developments in wireless networks, the challenges of wireless local area networking, and how to deploy the 802.11ac Wave 2 wireless standard.
By submitting your personal information, you agree that TechTarget and its partners may contact you regarding relevant content, products and special offers.
You also agree that your personal information may be transferred and processed in the United States, and that you have read and agree to the Terms of Use and the Privacy Policy.
For the first time, European business use of Wi-Fi hotspots eclipsed North America in the first half of 2008. Europe grew its use 89% year over year and now accounts for 47% of global use, up from 36% in the first half of 2007.
Nearly 70% of the growth in global Wi-Fi came from Europe and seven of the top ten countries in the world are in Europe.
In the first half of 2008, London's Wi-Fi session count was up by 27% on the second half of 2007, with an average session length of 57 minutes.
North America grew 17% year over year and now accounts for 45% of usage, down from 56% the year before, whilst Asia Pacific grew by 54% to hold steady at 6% of worldwide share. Latin America and the remaining world regions grew at 98% and 76% respectively but each accounts for only 1% of global usage.
"The results of the latest Mobile Broadband Index indicate that businesspeople worldwide continue to do more work away from the office, whether they are on a business trip, commuting, or checking e-mail at a nearby café or restaurant," said Joel Wachtler, vice-president of marketing and strategy at iPass.
"We see both Wi-Fi hotspots and 3G mobile broadband playing an important role in keeping the workforce productive, and iPass expects Wimax and other 4G technologies to continue this trend towards a ubiquitously connected multi-technology world."
London remains the top city for business users of Wi-Fi, although high growth in Singapore and Tokyo, which came in at number two and three respectively, cut into its lead.
The UK capital boasted over 31,000 user sessions (excluding airports and hotels) in the first half of 2008, up by 27% on the second half of 2007, with an average session length of 57 minutes.
Chicago replaced New York as the top US city, and was fifth in the world. The only countries with multiple cities in the Top 10 were the US, with Chicago, Seattle, New York, Houston and San Francisco and Germany, where Munich doubled and Bonn quadrupled its Wi-Fi usage over the past year.
Read more on Wireless networking